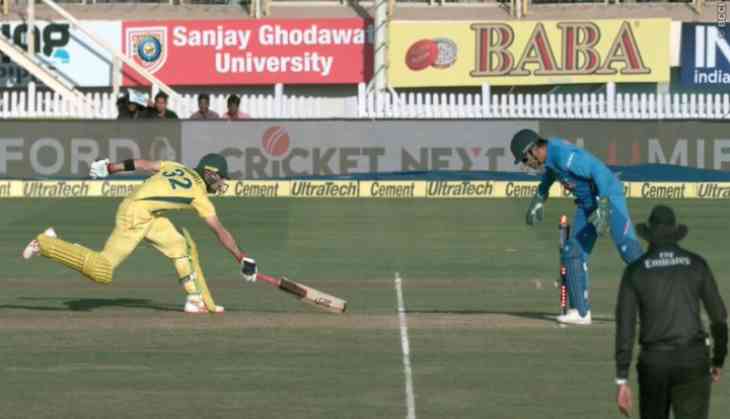 MS Dhoni has always proved his worth on field by his wicket-keeping capabilities. During the third ODI against Australia in Ranchi, Dhoni's wicket-keeping skills once again proved to be a crucial one for team India. In the last ball of the 41st over, Kuldeep Yadav bowled a short chinaman to Shaun Marsh, Marsh slapped it off towards Jadeja. Jadeja fired a bullet throw from short cover when Dhoni deflected it with his gloves into the stumps to run-out Glenn Maxwell.
Glenn Maxwell was looking good before the run-out as he scored 31-ball 47, but when he was sent back to pavilion, there was no celebration from MS Dhoni but the crowd were absolutely chuffed.
When Jadeja's rocket arm meets Dhoni's guile https://t.co/TeWrhHr3qP #BCCI

— Vishal (@tiwary_27) March 8, 2019
This is not the first time when MS Dhoni did something like this. During the India's tour of New Zealand earlier this year, MS Dhoni run-out James Neesham when the later was wandering out of his crease after a failed lbw appeal by Kedar Jadhav.
During the T20 World Cup in 2016, in a match between India and Bangladesh, Mustafizur Rahman's run-out by MS Dhoni was a spectacular thing to watch. Needing two runs off last one ball, Hardik Pandya bowled a widish delivery to tailender Shuvagata. Shuvagata missed it and Dhoni ran up to the stumps to run-out non-striker Mustafizur Rahman.