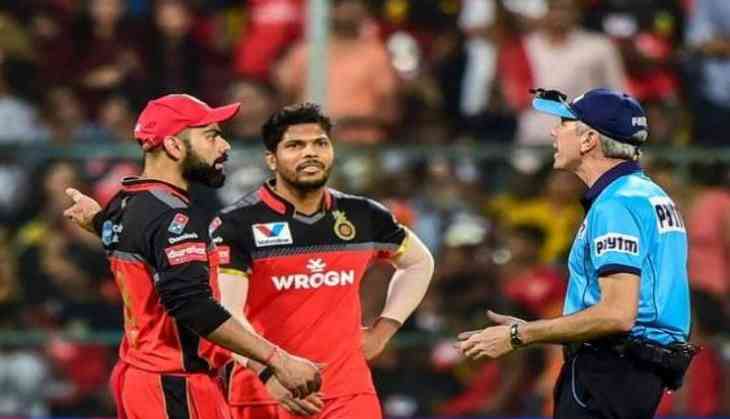 English umpire Nigel Llong is accused of damaging M Chinnaswamy stadium door after having an argument with Royal Challengers Bangalore skipper Virat Kohli. Llong reportedly lost his cool after being confronted by Virat Kohli over a wrong decision that he made in a match against Sunrisers Hyderabad.
The incident took place on Saturday when Llong gave a decision of no-ball in the last over of the first innings. Virat Kohli came in to confront Llong which he did not take nicely and went on to break the stadium door in the mid innings break.
That eventful Umesh Yadav last over https://t.co/HRM85YD2bw via @ipl

— Cricket Junkie (@JunkieCricket) May 7, 2019
Karnataka State Cricket Association secretary, R Sudhakar Rao said that KSCA has registered a complaint with BCCI against Nigel Llong and have asked the Indian governing body to take action against him. Rao, however cleared that Llong has paid for the damage he caused and demanded receipt of the payment.
According to PTI, Rao said, "We have reported the matter to the Committee of Administrators (COA) and hopefully action will be taken against Nigel Llong. If the players are punished for their misdemeanour and fined their match fees then why not the umpires."
The Board of Control for Cricket in India (BCCI) have said that Nigel will stand in the final of the Indian Premier League but he might have some explaining to do.
Nigel has stood in 123 ODIs, 32 T20Is and 56 Tests in his career. He will also be seen in the upcoming World Cup in England and Wales.
Also read: Ex India captain Dilip Vengsarkar feels Virat Kohli-led team will finish in the last four in World Cup