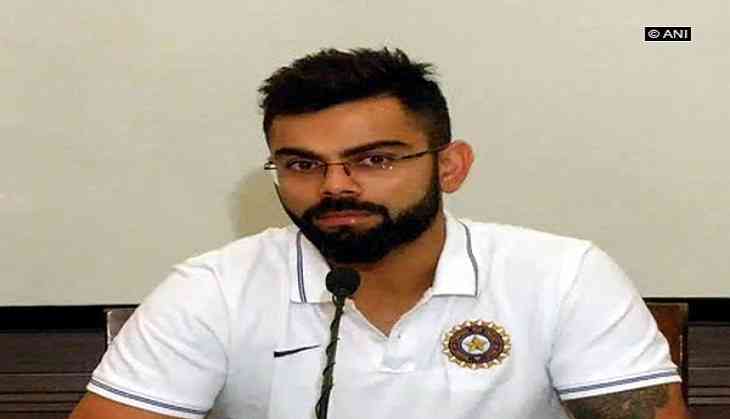 The 'run machine' of India cricket team Virat Kohli is also known for his aggression on the field. In the recently concluded Test match, Indian skipper Virat Kohli hit the 5th double century of his career and he was at his aggressive best. Virat hit 213 runs in the second Test off 267 balls. Virat Kohli's double ton along with centuries from Murali Vijay, Cheteshwar Pujara and Rohit Sharma helped Indian team in winning the second Test match by an inning and 239 runs.
While talking about Indian team's South Africa tour, Virat Kohli said for winning in the South Africa tour Indian team needs to be aggressive in their approach. Virat Kohli at the post-match presentation ceremony said, "I just wanted to bat the way I bat. Get into good positions and rotate strike and score quickly so our bowlers have time to bowl the opposition out."
Also Read: OMG! This Indian veteran player snubs Virat Kohli and opts Pakistani player while picking best ODI captain of 2017
"We will need that (approach) overseas so I was looking at doing that. I always wanted to better myself in scoring big hundreds for the simple reason that the team benefits. When you lose concentration after a hundred, maybe two wickets can fall quickly. A set batsman can play shots easier than a new batsman so I started thinking in that way and my fitness helps me bat for longer periods," Virat Kohli added.
While talking about the performance of Chetashwar Pujara, Rohit Sharma and Murali Vijay, Virat said Pujara has been a constant performer from Indian side but it felt great to see Rohit and Murali in action.
Also Read: Ind vs SL: Ravichandran Ashwin becomes the fastest bowler to take 300 Test Wickets
"Pujara we know, he's been very consistent. Vijay was playing after a while, he takes pride in playing Test cricket. I know it hurt him to be out and he came back really well. Rohit as well, making a strong case for himself in the future. He will always be there when we speak about combinations. We have a lot of Test cricket coming up," said Kohli further added.
While talking about the pitch, Indian skipper who was also man-of-the-match in the second Test match for his double ton said, "We would like to think we want to prepare for South Africa. That's why we asked for pitches with help for the fast bowlers. This one (Nagpur) deteriorated by the second day. But Kolkata was the ideal wicket."
Also Read: Here is what MS Dhoni has to say about a match between India and Pakistan
"There's not enough time in between to prepare so we have to use the time we have now for a big tour coming up," the skipper said.