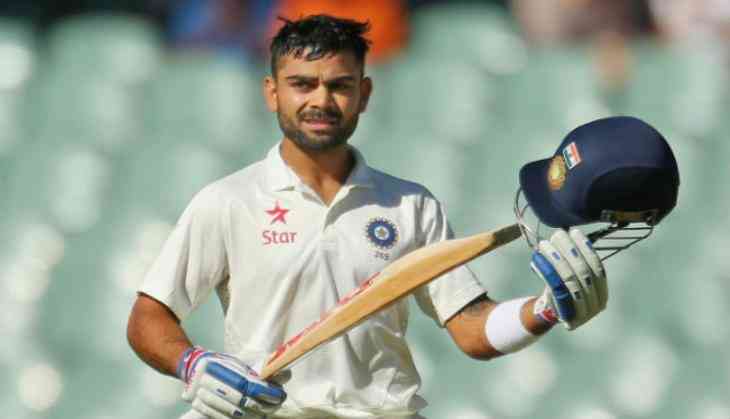 The 'run machine' of Indian cricket Virat Kohli recently completed his 50th International century in style. Kohli with the help of his 104 knocks in the first Test match against Sri Lanka climbed up to the fifth spot in the latest ICC Test rankings.
After completing his century with six Virat Kohli declare the inning at the score of 352-8. With the help of his knock, Virat Kohli replaced Australian Batsman from the fifth spot in ICC Test ranking.
Indian all-rounder Ravindra Jadeja, however, lost 20 points, due to which he slipped at the third spot in ICC ranking.
Also read: Ind vs SL: You will be shocked to know Virat Kohli wanted to declare the inning when he was batting at 97
In the list of ICC Test ranking, men-in-blue is at the top spot with 125 points. When it comes to ICC Test Player Rankings, Australia captain Steve Smith leads the table for batsmen with his counterpart Joe Root in the second position but a good 47 points behind.
Test rankings
Rank Country Matches Rating
1 India 36 125
2 South Africa 34 111
3 England 43 105
4 New Zealand 32 97
5 Australia 34 97
6 Sri Lanka 39 94
7 Pakistan 34 88
8 West Indies 38 75
9 Bangladesh 23 72
10 Zimbabwe 13 0
ODI rankings
Rank Name Matches Rating
1 South Africa 53 120
2 India 52 120
3 Australia 52 114
4 England 54 114
5 New Zealand 49 111
6 Pakistan 46 99
7 Bangladesh 34 92
8 Sri Lanka 64 83
9 West Indies 40 77
10 Afghanistan 30 54
11 Zimbabwe 41 52
12 Ireland 25 41
Twenty20 rankings
Rank Name Matches Rating
1 Pakistan 23 124
2 New Zealand 16 120
3 West Indies 20 120
4 England 17 119
5 India 25 119
6 South Africa 20 112
7 Australia 15 111
8 Sri Lanka 24 91
9 Afghanistan 25 86
10 Bangladesh 17 76
11 Scotland 11 67
12 Zimbabwe 13 65
13 UAE 16 52
14 Netherlands 9 49
15 Hong Kong 13 46
16 Papua New 6 39
17 Oman 9 38
18 Ireland 15 36
Test batsmen
Rank Rating Name Country
1 936 Steve Smith Australia
2 889 Joe Root England
3 880 Kane Williamson New Zealand
4 876 Cheteshwar Pujara India
5 817 Virat Kohli India
6 807 David Warner Australia
7 795 Hashim Amla South Africa
8 761 Lokesh Rahul India
9 760 Ajinkya Rahane India
10 755 Azhar Ali Pakistan
Test bowlers
Rank Rating Name Country
1 896 James Anderson England
2 876 Kagiso Rabada South Africa
3 864 Ravindra Jadeja India
4 852 R Ashwin India
5 833 Rangana Herath Sri Lanka
6 794 Josh Hazlewood Australia
7 752 Natahan Lyon Australia
8 748 Dale Steyn South Africa
9 745 Neil Wagner New Zealand
10 737 Stuart Broad England
ODI batsmen
Rank Rating Name Country
1 889 Virat Kohli India
2 872 AB de Villiers South Africa
3 865 David Warner Australia
4 846 Babar Azam Pakistan
5 808 Quinton De Kock South Africa
6 802 Joe Root England
7 799 Rohit Sharma India
8 773 Francois du Plessis South Africa
9 766 Hashim Amla South Africa
10 760 Kane Williamson New Zealand
ODI bowlers
Rank Rating Name Country
1 759 Hasan Ali Pakistan
2 743 Imran Tahir South Africa
3 719 Jasprit Bumrah India
4 714 J Hazlewood Australia
5 708 Kagiso Rabada South Africa
6 684 Mitchell Starc Australia
7 671 Trent Boult New Zealand
8 653 Akshar Patel India
9 647 Rashid Khan Afghanistan
10 646 Sunil Narine West Indies
Twenty20 batsmen
Rank Rating Name Country
1 824 Virat Kohli India
2 784 Aaron Finch Australia
3 780 Evin Lewis West Indies
4 716 Kane Williamson New Zealand
5 700 Glenn Maxwell Australia
6 690 Alex Hales England
7 683 Joe Root England
8 683 Hashim Amla South Africa
9 679 Martin Guptill New Zealand
10 664 Babar Azam Pakistan
Twenty20 bowlers
Rank Rating Name Country
1 724 Jasprit Bumrah India
2 719 Imad Wasim Pakistan
3 717 Rashid Khan Afghanistan
4 694 Samuel Badree West Indies
5 691 Imran Tahir South Africa
6 676 Sunil Narine West Indies
7 667 Mustafizur Rahman Bangladesh
8 661 James Faulkner Australia
9 661 Shakib Al Hasan Bangladesh
10 656 Ish Sodhi New Zealand
Also read: Virat Kohli to Sachin Tendulkar: Here is the list of 10 players with the maximum number of centuries in international cricket