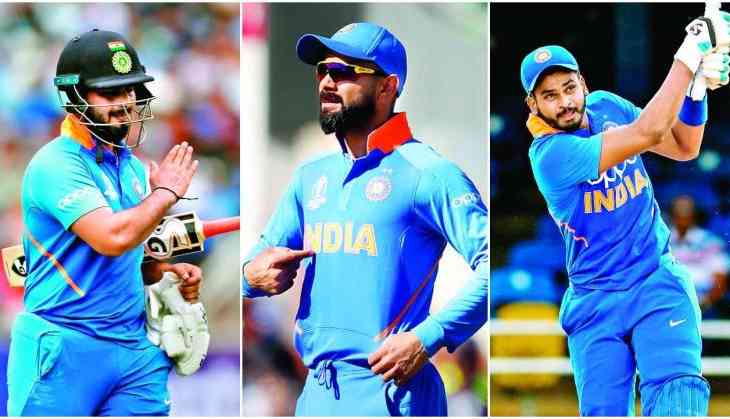 Failure to communicate adequately, Shreyas Iyer and Rishabh Pant nearly walked in to bat at the same time, leading to uncertainty in the third T20I match against South Africa on Sunday.
After Shikhar Dhawan's dismissal, both Shreyas Iyer and Rishabh Pant walked towards the crease before the latter finally walked in to join Virat Kohli at the No.4 spot.
Virat Kohli was questioned about the happening during the post match press conference after South Africa stood victorious by nine wickets. "I think there was a miscommunication. That was what I understood afterwards," Kohli said.
AlsoRead:http://www.catchnews.com/cricket-news/virat-kohli-unveils-his-mantra-going-into-t20-world-cup-2020-173720.html
"The batting coach had a word with both of them. There was a misunderstanding over who has to go at what stage," Kohli said. "It was a little funny as well afterwards because they both wanted to walk in. So it would have been very funny if both reached the pitch, you know three batsmen in the field."
When asked who was originally slated to bat at number four, Virat Kohli stated that they had plans as per the situation.
"I think after 10 overs what we had decided was that Rishabh would walk in, and before that, Shreyas had to walk in. But I think both of them got confused and didn't realise who has to walk in at what stage of the game," Kolhi said.
AlsoRead:http://www.catchnews.com/cricket-news/ms-dhoni-set-to-prolong-his-break-from-international-cricket-173710.html
Virat Kohli's courageous approach to bat first backfired on his team after Quinton de Kock (79) single-handedly chased down the target for a comprehensive nine wicket victory in the third T20I on Sunday.
"Exactly what we wanted to do and that's going to be the template we'll follow for games we have before the World Cup (on opting to bat after winning the toss). The mindset has to be flexible and to try out things when situations are stacked against us. We will have games like this where we don't execute what we want. But as long as the intent is there to improve, we'll be in a good zone."
AlsoRead:http://www.catchnews.com/cricket-news/gautam-gambhir-urges-bcci-retire-jersey-number-12-as-an-honour-to-yuvraj-singh-173701.html
That's a wrap from the T20I series. See you soon in the Tests ✌️🇮🇳 #TeamIndia #INDvSA pic.twitter.com/oqhhrH0g4D

— BCCI (@BCCI) September 22, 2019
The Indian skipper also acknowledged the fact that the South African side excuted their game plan better.
"I think South Africa bowled well, the pitch suited them in the first innings and we weren't able to read the tempo of the game well. I would say only in T20 cricket (where chasing is easier)."
"In one-day cricket you have time for the bowlers to come back, but here a partnership of 40-50 can take the game away from you. One good partnership and you're under the pump even if you're defending 200."