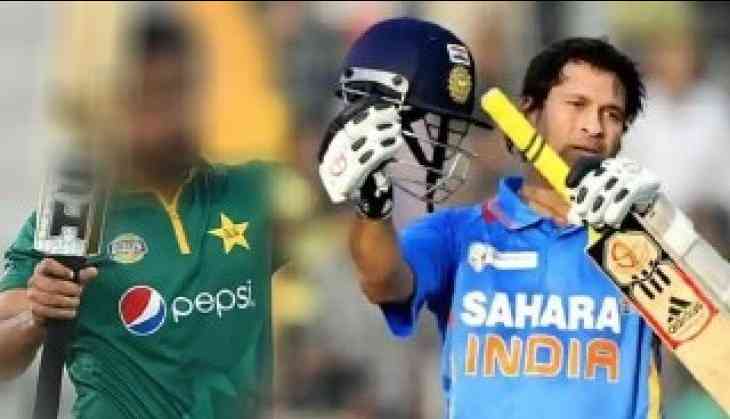 Shahid Afridi made his debut in International cricket on October 2, 1996 against Kenya as a leg-spinner but did not bat and went wicketless. But in the next match against Sri Lanka he was promoted to number 3 to bat and Afridi broke the record for fastest century in ODIs, reaching his hundred in just 36 balls.
But not many people know that the record which he broke was made from the bat of cricket legend Sachin Tendulkar. On October 4, 1996 Afridi stepped out to play against Sri Lanka but lacked proper playing kit. Pakistani spinner Saqlain Mushtaq offered him his boots and helmet and former Pakistani captain Waqar Younis gave him Sachin's bat to play. The bat was with Younis as Sachin had given him to get a similar bat from Sialkot, Pakistan.
Afridi made his century of 36 balls comprising 11 sixes which was also a record at that time. Afridi became the youngest player to score an ODI century. Pakistan posted a total of 371, at the time the second-highest in ODIs, and won the match by 82 runs. Afridi was named man of the match.
The record for fastest century in ODI was broken by New Zealand cricketer Corey Anderson on 1 January 2014 who hit 131* runs from 36 balls and is now held by South-African cricketer AB de Villiers who made a century from 31 balls on 18 January 2015 against West Indies.
Shahid Afridi has played 398 ODIs for Pakistan and made 8,064 runs at an average of 23.57. Afridi has also played 27 Tests and 99 T20Is scoring 1,716 and 1,416 runs respectively.
On 19 February 2017, Afridi announced his retirement from international cricket. However, he made a brief return to international cricket after being selected to represent and captain the World XI against West Indies in the 2018 Hurricane Relief T20 Challenge charity match. Following the conclusion of the match, Afridi announced his retirement from international cricket at the Lord's cricket stadium on 31 May 2018.