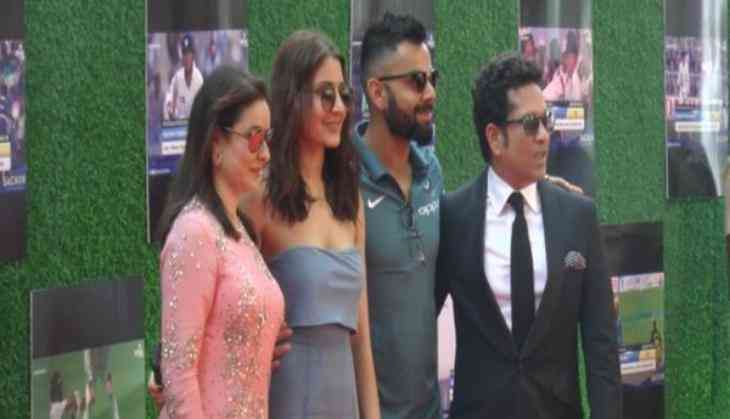 Indian captain Virat Kohli views Sachin Tendulkar as his ideal Whether it is cricket or personal life. Though it is a coincidence that Indian skipper is walking on the foot steps of former Indian batting maestro.
The way Virat has followed many records of Sachin Tendulkar in cricket. In the same way on the pitch of personal life, Virat has taken a big decision like Sachin. We are talking about the Sachin who married a girl elder to him. In the same way Kohli also married to a girl who is elder to him.
Apart from this, there is a similarity that both the players have married with their girlfriend. If we talk about Sachin, his date of birth is (April 24, 1973) and his wife Anjali Tendulkar (10 November 1967).
Today we have promised each other to be bound in love for ever. We are truly blessed to share the news with you.This beautiful day will be made more special with the love and support of our family of fans & well wishers. Thank you for being such an important part of our journey. pic.twitter.com/aobTUwMNAK

— Virat Kohli (@imVkohli) December 11, 2017
On the other hand, Kohli's birth date is November 5, 1988 while Anushka's 1 May 1988. There is a difference of six months in both age and Anushka is older than Virat. Kohli and Anushka are both in the 30th year of their age.
Cricket and sports celebrities have given congratulations to Kohli and Anushka on social media. Virat and Anushka got married on Monday in a private ceremony in Italy. Both shared tweets by tweeting, after which Virat and Anushka's wedding photos on social media went viral.