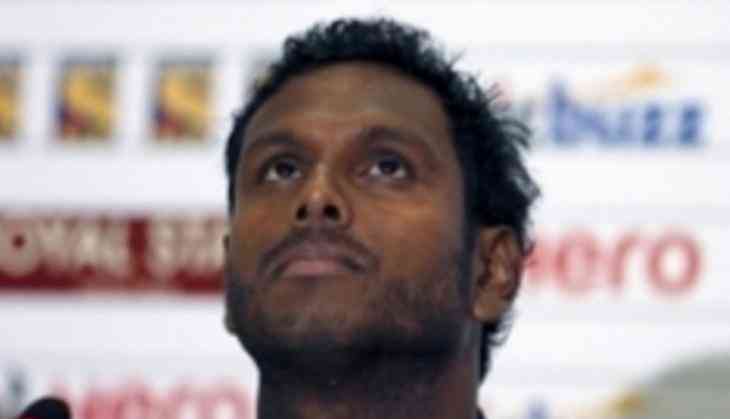 Sri Lanka happy to enter Champions Trophy as 'underdogs': Mathews (ANI)
Sri Lanka skipper Angelo Mathews has said that his players are ready to embrace the 'underdog' tag at the ICC Champions Trophy, beginning June 1 in England and Wales.
A joint-winner in 2002, Sri Lanka have only reached the semi-final stage once since, getting to the last four in the 2013 edition, also in England.
In a pool also featuring India, Pakistan and South Africa, Mathews admits his team are being seen as an outsider to lift the trophy but is confident Sri Lanka has the firepower to make a run at the title.
'All the teams are quite even, I think in the past few months we have had a few lapses here and there. Nobody will give us a chance, to be really honest, but we are happy to enter the tournament as underdogs,' Mathews said.
'We are confident, we have prepared extremely well. In Sri Lanka and England for the past few days, it's been really good. Hopefully, we can play tomorrow's practice game (against Australia), and get a good practice out of it.
'All the teams are quite even but it's on the given day, the guys who make fewer mistakes will win. It can be England, it can be us, it can be anyone. Everyone has got a chance, no one can write anyone off and I'm sure it will be a very exciting tournament,' he added.
Still only 29, Mathews is one of the veteran leaders on the Sri Lanka team and was part of the side that beat England 3-2 in a one-day international series back in 2014.
While the batting line-up has a very different look to it in this tournament, Mathews is confident that Sri Lanka can use that experience to its advantage.
He added: 'We are a team where we stick to our basics. We've played pretty well in England, especially in 2014, so we will try to take a leaf out of it.
'We are a pretty young, inexperienced team, but a few of us have played in England. Anyone can change a game at any given stage. We have got the talent, the skill in the team, it's just that we have to go out there and express ourselves,' he said.
The 'X-factor' for Sri Lanka could be Lasith Malinga, who is included in the squad and is in line for a first one-day appearance since 2015.
Now almost exclusively playing in Twenty20 cricket, Malinga enters the tournament fully fit according to his skipper, who is optimistic the 33-year-old fast bowler can shine in the longer format.
Talking about Malinga, Mathews said, '(Malinga) is fully fit. We look forward to utilising him in the matches. He is very keen, he got here a few days back. He's very keen to get on the park. He hasn't played 50-over games in the recent past but he has played a lot of games in the IPL which is very intense.
'He's been doing a lot of training as well. He is confident, we are confident as well. We all know he is a match winner, he has proven himself over the past many years. He can win us a game single-handedly, so we are looking forward to it,' he added.
Sri Lanka will kick off their campaign against South Africa on June 3 before the two matches against their sub-continental rivals India and Pakistan.
And despite a surprise loss to Scotland in a warm-up game, quickly avenged two days later, Mathews believes his side will be ready for English conditions.
He added: 'It was just a practice game for us, we rested a few players. In an ideal scenario, we would have bowled first but I wanted our batters to bat in those conditions when the wicket is fresh.
'The result didn't matter to us, even in the second game when we thrashed them, we just wanted to go out there and acclimatise, get used to the conditions and the wickets and the pace and spend some time in the middle.'
-ANI