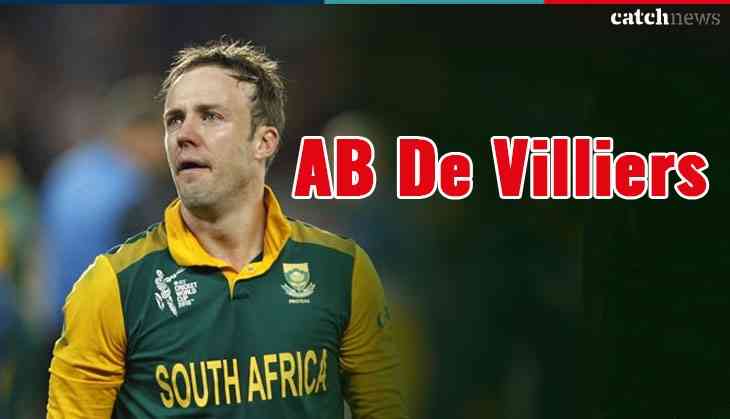 Ab de Villiers has announced his retirement recently from the international cricket. Fam
The player has been a part to the RCB in the IPL and has played brilliantly this season. He enjoys great popularity across the world, particularly in India. The decision comes as a shock to the world cricket fraternity as the retirement comes as a decision that was not at all expected. He is completely fit and looking at his amazing performances in the IPL one would always wonder as to why De Villiers announced his retirement so early?
The 34-year-old says 'the time is right' for him to hang up his boots, bringing a close to a sterling 14-year career.
He said, "I have decided to retire from all international cricket with immediate effect," he said on Wednesday. "After 114 Test matches, 228 ODI's and 78 T20 Internationals, it is time for others to take over. I have had my turn, and to be honest, I am tired."
"This is a tough decision, I have thought long and hard about it and I'd like to retire while still playing decent cricket. After the fantastic series wins against India and Australia, now feels like the right time to step aside.
"It would not be right for me to pick and choose where, when and in what format I play for the Proteas. For me, in the green and gold, it must be everything or nothing. I will always be grateful to the coaches and staff of Cricket South Africa for their support through all these years. The most important thank you goes out to all of my teammates throughout my career, I wouldn't be half the player that I am without the support throughout the years."
I've made a big decision today pic.twitter.com/In0jyquPOK

— AB de Villiers (@ABdeVilliers17) May 23, 2018
De Villiers records and statistics are a true measure of the skill and brilliance he has brought to the crease. He holds a phenomenal number of milestones to his name; the World Record for the fastest ODI 50 (16 balls), 100 (31 balls) and 150 (64 balls), the second highest individual Test score for South Africa (278*), the highest points (935) by a South African on the ICC Test rankings and has claimed the coveted SA Cricketer of the Year award twice (2014 and 2015).
He is the player who has amazed the world and his retirement is a great loss to the cricket community of the world.
Also Read: Facebook joins Qualcomm to provide high speed internet services; see details