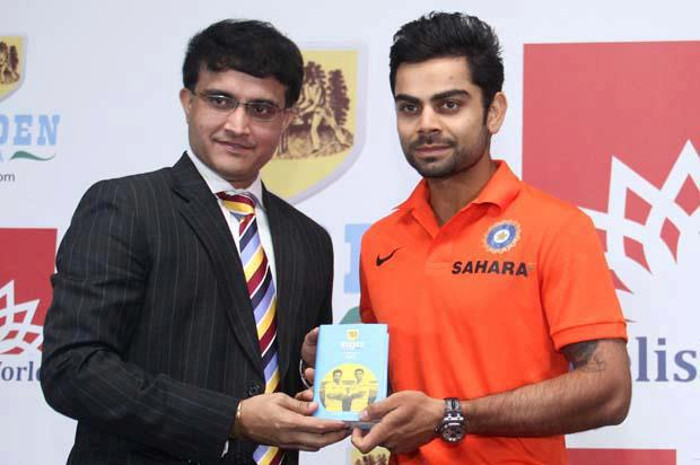 Former India captain and incumbent Cricket Association of India (CAB) president Sourav Ganguly remained non-committal on his association's support for Shashank Manohar as the BCCI president, keeping cards close to his chest.
It is East Zone's turn to propose the BCCI president's name and it is widely believed that the former India captain who would now control three votes -- Bengal, Tripura and National Cricket Club (NCC) would be the proposer.
When asked whether he will support Manohar's name in the BCCI meeting on October 4, Ganguly said: "We cannot talk right now, we will see what happens ahead."
The BCCI has called a Special General Meeting (SGM) on October 4 to elect its new President with Nagpur lawyer Manohar emerging as a "consensus" candidate.
Apprising media of the development, the BCCI Secretary Anurag Thakur in Delhi said that the meeting will be held in Mumbai and scrutiny of the nominations will be done on October 3. On CAB or East Zone states not having a candidate for BCCI presidency, the 43-year-old Ganguly said, "I am not yet the president of CAB. I am still the secretary. We will have to wait and watch. We will see, we will have to follow BCCI norms."
Meanwhile, Ganguly made it clear that it was not the time to talk about BCCI's plans to appoint different coach for Test and ODIs.
"(Team Director) Ravi Shastri has done a good job.
Recently, the team has done well in Sri Lanka and he has got extension till T20 World Cup. This is not the time to speak on the issue," Ganguly told reporters here after being signed as a brand ambassador for a jewellery company.
"I do not want to go into debate on Indian or overseas coach. But we have good coaches, we have good crickets who give time and who want to give time. We will need to think about them. There are a lot first class players, Test players whose game sense is good. We need to think about them," he added.
The former skipper felt that South Africa will find it tough against the home team in the upcoming series.
"Look, the South Africa series will be a good series because they are a good team. Our team has played good cricket in Sri Lanka. This is a long series and I always believe that India is ahead in India.
"South Africa has a bowling attack which can take 20 wickets. India also has a bowling attack which can take 20 wickets. In conditions where the ball will spin and is a long series, it will be challenging for South Africa to hold their form. A 70-day series...holding form is necessary," he said.
South Africa will play three T20 Internationals, five ODIs and four Tests during the tour as part of the Mahatma Gandhi-Nelson Mandela series, beginning October 2.
On the good spin attack of the Proteas, the former skipper said: "Yes, Imran Tahir is a bowler with experience and will bowl good on turning wickets. I have heard about another spinner, but till he doesn't bowl we will not understand how good he is. He will bowl against India batsmen who plays spin well. It will be a challenge for him."
Ganguly wished Virat Kohli the very best for the series.
"I am a great fan of Kohli as a captain who feels he plays to win. Sometimes he will win and sometimes lose, I like attitude of Virat Kohli. Best wishes to him...big tour, difficult tour. But I still believe India is ahead.
"Every player in every series will not do well. But it has been good for India. In the Sri Lanka tour, when time came some batsmen stood up and made runs," he said.
Stating that the South African players would be well prepared for this tour as they have enough experience of playing in India, Ganguly said: "In this South Africa squad all players play in IPL...two and a half months in India. They bat on these slow pitches. So they have an idea."
-PTI