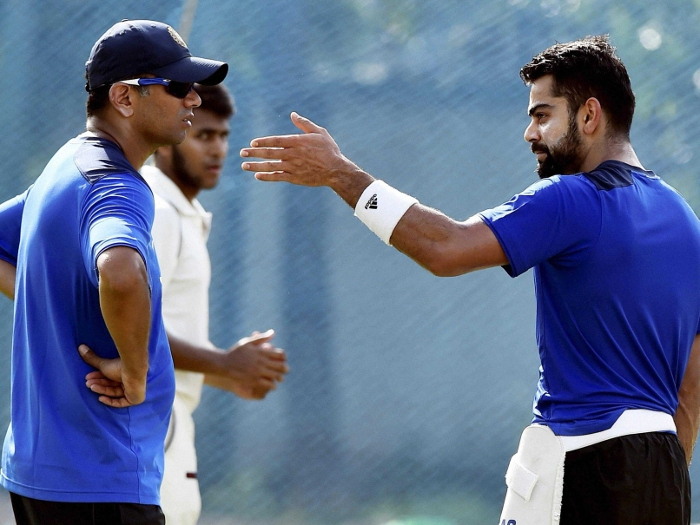 India A coach Rahul Dravid, who spent some quality time with Test captain Virat Kohli advised him to make Virender Sehwag's unbeaten 201 at Galle (in 2008) against a rampaging Ajantha Mendis as a reference frame for facing the Sri Lankan tweakers this time round.
"If you see the way that series (2008) went, Ajantha Mendis was a revelation (he took six wickets in that innings). Mendis was really troubling batsmen. That was the game that Viru bhai actually took him on and whacked him. Couple of days back, I spoke about that innings with Rahul Dravid. He (Dravid) said that is the best innings of Virender Sehwag's in his career," the name Sehwag got the utmost respect out of Kohli's voice.
"That innings personally taught me how to play in Sri Lanka against their spinners in their conditions. I am sure lot of batsmen would want to watch it again throughout the series and take tips as to how we can go about our business," Kohli made it clear why that innings would be a reference frame for all batsmen playing Test cricket in Sri Lanka.
Incidentally, Sehwag scored 201 out of 329 in that Indian innings where eight players failed to get into double digits.
"I saw the whole of that innings and the way he (Sehwag) batted even with the lower order still so backing himself throughout. That teaches a lot specially to youngsters who want to cement a place or make a mark in Test cricket. It is all about backing your ability and not changing a game too much from what you used to playing."
Asked about what exactly were the areas where he worked with India A coach Rahul Dravid, the talented Delhi batsman spoke about adjusting to pitches which helps spinners with sweeping being one of the key aspect.
"Sweeping is one aspect that I was always looking to improve on. If you look at our team, Ajinkya plays the shot well, I have seen Rohit play the shot and also Vijay. I thought I might add it into my armoury."
"I played that last in Australia and I figured out that playing on turning wicket is something that you need to have as a batsmen to tackle difficult situations. Dravid helped me from the sidelines that he saw something could have been corrected while playing.
"That was indeed very helpful and he has been very helpful in the past six days and organized whatever sort of practice that I needed. I am really glad that I came here and played that game. All in all it turned out to be a very good preparation."
-PTI