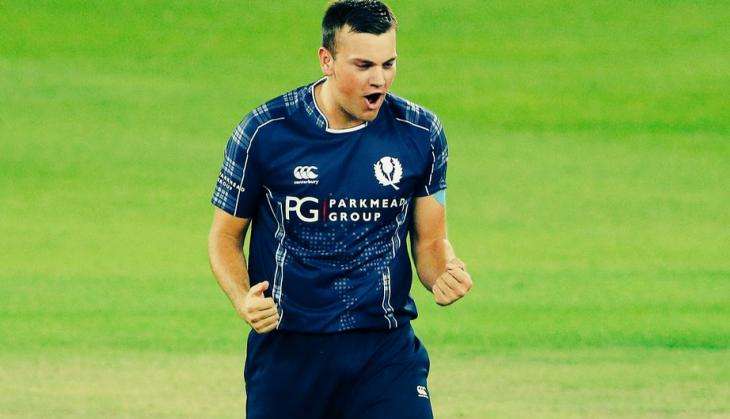 Scotland bowler Mark Watt has received an official reprimand for breaching Level one of the ICC Code of Conduct during their 98-run defeat in the semi-finals of the Desert T20 Challenge against Ireland in Dubai on Friday.
Watt was found to have breached Article 2.1.5 of the ICC Code of Conduct for Players and Player Support Personnel, which relates to "showing dissent at an umpire's decision during an international match."
In addition to the sanction imposed for his breach of Article 2.1.5, one demerit point has been added to Watt's disciplinary record.
"Pursuant to Article 7.6 of the Code, if Watt reaches four or more demerit points within a 24-month period, his demerit points will be converted into, at least, two suspension points which will equate to a ban from his next match or matches. Two suspension points equate to a ban from one Test or two ODIs or two T20Is, whatever comes first for the player," the ICC said in a statement.
The incident happened in the 16th over of the Scotland innings, when Watt, after being adjudged lbw, showed his bat to the umpire to indicate that he had hit the ball first.
Following the match, Watt admitted the offence and accepted the sanction proposed by ICC Regional Referee David Jukes. As such, there was no need for a formal hearing.
The charge was levelled by on-field umpires Ahmed Shah Pakteen and Buddhi Pradhan and third official Tabarak Dar.
Level 1 breaches carry a minimum penalty of a warning, a maximum penalty of 50 per cent of a player's match fee, and one or two demerit points.
--ANI