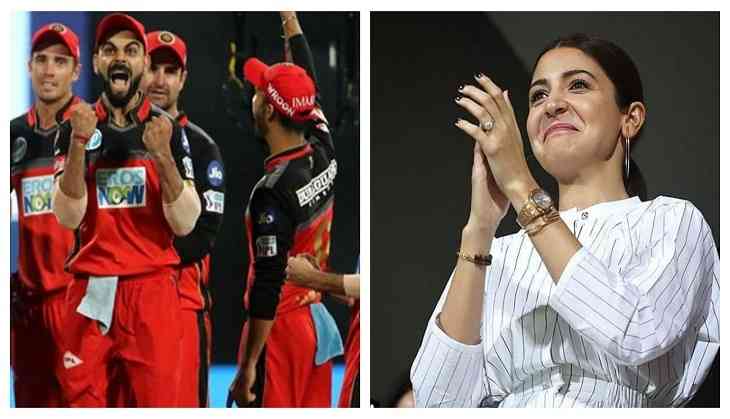 Virat Kohli and Anushka Sharma
Every day we get surprised while watching the Indian Premier League matches. Yesterday's match was played between Royal Challengers and Banglore, which was very interesting to see. However, Mumbai Indians won the toss and elected to bowl first.
Well, RCB didn't score a good target for MI, their total runs were 167 only. RCB's skipper Virat Kohli got out at 32 runs which he scored in 26 deliveries. After Kohli's catch out, the other players also didn't perform well and one-by-one wickets started falling.
However, Mumbai Indians, whose luck is not with them and they lose the match. As MI captain Rohit Sharma won't be able to open his account and got out at 0 which was very shocking for the fans of MI.
Well, the competition was very tough between the two teams and finally, RCB registered its victory against MI. However, Royal Challengers winning performance was very unexpected because, this year, team performance was very weak throughout the 11th season.
Because of bad performance, RCB has been trolled several times on social media. Sometimes people also trolled Virat because of his wife Anushka Sharma and even called her 'panauti'.
It was Anushka's birthday on 1st May 2018 and everyone was also expecting that the birthday gift from her hubby Virat will be the RCB's victory.
Finally, the 'Sui Dhaaga' actress got her gift. Even the trollers also got happy that Virat has gifted her this big win.
Here are some expressions of Twitterati for RCB:
Good bowling, good fielding, and RCB is a brilliant side all of a sudden. They needed this earlier in the tournament. Hope it's not too late. #RCBvsMI #IPL2018 #CricbuzzLIVE @cricbuzz #cricbuzz

— Himanshu Modi (@modi_himanhu_36) May 1, 2018
"My wife is here and it's her birthday it was very special winning it in front of her."

And just look at the way Virat looks at Anushka while going away jdjdhshfjs 😭😭💞#RCBvMI pic.twitter.com/avTSGhldrO

— traitor. (@inkedvirat) May 1, 2018
"My wife is there,it's her birthday, it's a little gift for her , i am glad she could enjoy the win watching from here, it's very special to achieve the 2 points infront of her" * nazar na lage* #RCBvMI #Virushka pic.twitter.com/UVWEUMwFo2

— ✨ (@Aarushiiiiiiiii) May 1, 2018
Happiness Can Neither Be Created Nor Destroyed. It Can Only Be Transferred From One Sharma To Another.

Sir Jadeja's Law Of #IPL. 😇💪🙈#RCBvMI #RCBvsMI #MumbaiIndians pic.twitter.com/T0lId5yPea

— Sir Ravindra Jadeja (@SirJadeja) May 1, 2018
Smile on Virat face.#RCBvMI #IPL2018 #MIvsRCB pic.twitter.com/B5haY319Se

— RVCJ Media (@RVCJ_FB) May 1, 2018
And The Much Awaited Smiles All Around After A Long Long Time. Couldn't Have Been A Better Gift For Anushka Sharma On Her Birthday. Well Played #RCB. 😇💪#RCBvMI #RCBvsMI #Virushka pic.twitter.com/Y0lqheNHQJ

— Sir Ravindra Jadeja (@SirJadeja) May 1, 2018
#Bangalore, you broke my heart on Sunday, but you made me fall in love with you again today. @RCBTweets #RCBvMI #Believe pic.twitter.com/cFUcXFpZsD

— Nikhil Chinapa (@nikhilchinapa) May 1, 2018
RCB beat MI by 14 Runs#RCBvMI #IPL2018 #MIvsRCB pic.twitter.com/B6Nw7y0OvR

— RVCJ Media (@RVCJ_FB) May 1, 2018
Anushka got her birthday gift❤️ #RCBvMI @AnushkaSharma pic.twitter.com/gq3ts7NSsm

— ✨ (@Aarushiiiiiiiii) May 1, 2018
wow rcb won 😻 , ab bolo anushka lucky hai?

— sidharth's princess is shaking bc of thor & steve (@mrssoftmalhotra) May 1, 2018
Well, Anushka also shared her feelings after receiving her birthday gift from her love and husband Virat. She took to Instagram and shared a beautiful pic of Virushka.
She wrote,'Best birthday with the bestest, kindest, bravest man in the world . Love you for making it so special my love ❤ !'
Well, this is the best gift for Anushka that Virat could be given to her wife.
What do you say?
Watch Video:
Also read: IPL 2018: Cricket fans going to witness this biggest transformation in the history of game; know what it is?