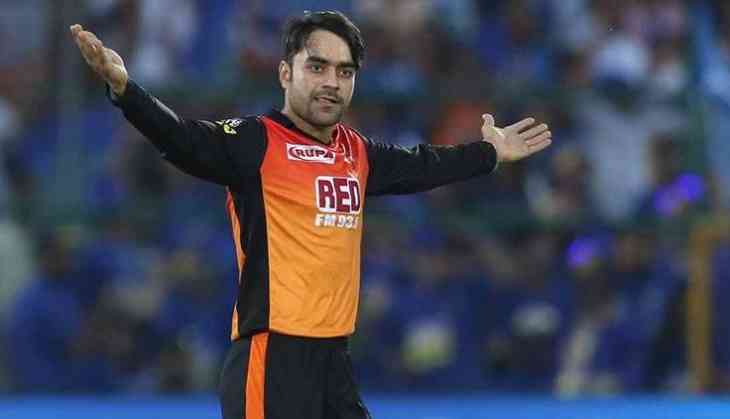 Rashid Khan was awarded the man of the match award in the last match played between Sunrisers Hyderabad and Kolkata Knight Riders. He, however, dedicated his MoM award to the victims and their families who died in the recent Afghanistan blasts. Rashid Khan has earned a lot of fans in India and there are millions whose hearts Rashid Khan has taken away. So much so that many of his fans are demanding an Indian citizenship for the Afghan player.
The 19-year-old man of the moment came up with an exceptional match-winning performance that helped Sunrisers Hyderabad make it to the finals of the IPL 11 defeating KKR.
The leg-spinner's stellar all-around performance lifted Sunrisers Hyderabad to a 14-run win over Kolkata Knight Riders, and into the final of the Indian Premier League's 11th edition, where they will face Chennai Super Kings.
Rashid Khan has been received praise from the legend Sachin Tendulkar who called him the best T20 bowler in the world. He was also praised by the Afghanistan president who called him the hero of the nation.
So impressed were the Indian cricket lovers that they wondered on the social media if Rashid could be given an Indian citizenship and allowed to play for India.
Union Minister of External Affairs Sushma Swaraj took to Twitter to respond to this, saying, ""I have seen all the tweets. Citizenship matters are dealt with by Ministry of Home affairs."
However, the tweet was later deleted from her Twitter handle.
In his response, the Afghan president tweeted, "Afghans take absolute pride in our hero, Rashid Khan. I am also thankful to our Indian friends for giving our players a platform to show their skills.
Ghani went on to describe Rashid Khan as "an asset to the cricketing world" and asserted that he belongs to Afghanistan."Rashid reminds us whats best about Afg (sic). He remains an asset to the cricketing world. No, we are not giving him away," the president said.
Rashid Khan said,
"I just tried to pick the lengths, the focus was to play straight. That was the plan from the senior players. Fielding is one department where you can't make excuses, compared to last year, I've worked really hard in my fielding."
Also Read: From Bajaj Avenger to Apache RTR 200, best bikes under Rs 1 Lakh that are amazing yet pocket-friendly