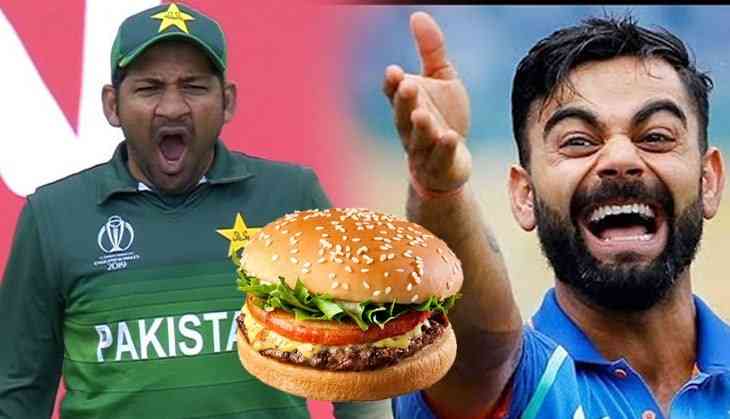 Team India successfully defeated Pakistani team for the 7th consecutive win in World Cup history against Pakistan. The performance of the Pakistani team really disappointed many and Pakistan fans have really been trolling the team for their worst performance against team India.
Many videos and pictures are getting viral on social media that shows a few Pakistan players are having burgers on the eve of the crucial match against India. As soon the team Pakistan faced the most embarrassing defeat against India, fans started trolling them and stated that burgers before the match were the main reasons for the loss.
Pakistan lost the match just because of 🍔 burger

L lag gye 🤣😂🤣

Dil ro raha hai - 2019 edition #INDvPAK #CWC19 pic.twitter.com/ggvC23K2EQ

— Brajesh Kr Singh ✳️ (@brajeshjee) June 17, 2019
Pakistani players were at 360 shisha lounge at Wimslow Road, Manchester a night before the biggest game of the World cup. Not sure if that was wise and accordingly to a very reliable source Sarfaraz ate 4 burgers 🍔🍔🍔🍔, indeed that reflected in his performance. pic.twitter.com/Ss4vR8OqsC

— RungUK (@UkRung) June 16, 2019
Feel the difference.....

Imran didn't allow Wasim to have burger after practice session

Sarfaraz was having burgers & cream shakes with team a night before big match against India in WC.

Imran was ahead of this team even 31 years ago pic.twitter.com/G4owmhk91J

— Comrade Junaid (@ProductionAadar) June 16, 2019
Can't even laugh at this because this is actually how I'm feeling 🤧😭 pic.twitter.com/efmCbFoGEd

— Asfand 🇵🇰 (@Asfand781) June 16, 2019
In one of the videos, those are getting viral on social media, a Pakistani fan can be heard saying that the players like Shoaib Malik, Sarfaraz Ahmed and others were eating burgers before the crucial match. This is the reason why they have lost. He even said that they are not even fit and they are only ready for 'Dangal' not for cricket.
Shoaib Malik of the #pakistancricketteam at midnight, hours before the most crucial match of the #CricketWorldCup2019 In Curry Mile In a Shisha cafe. Add the burgers and deserts, no wonder they performed dismally at Old Trafford. They should be ashamed. Every single one of them. pic.twitter.com/Dr8gHWdF9M

— Mohammed Shafiq (@mshafiquk) June 16, 2019
India wholeheartedly thanks Sania Mirza for taking the paki boys & her hubby out for party till 2AM b4 #INDvPAK match 😉 pic.twitter.com/g1gBK15hSD

— NewEnglandRa (@NewenglandRa) June 16, 2019
Some fans even trolled Indian tennis star Sania Mirza who also presented with the boys during their outing with her husband Shoaib Malik and his teammates.
Also Read - Pakistani journalist asks Rohit Sharma to give advice to Pakistani batsmen; 'Hitman's reply is funny