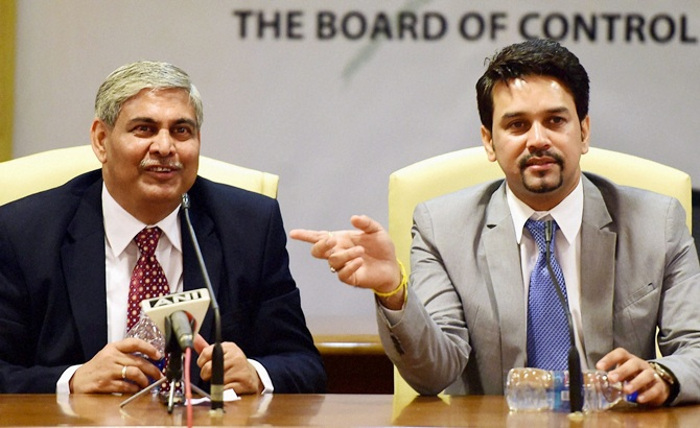 A day after the Pakistan Cricket Board (PCB) chairman Shahryar Khan announced that their national team will not tour India for the proposed bilateral series in December, a national daily 'The Nation' slammed the Board of Control for Cricket in India (BCCI) in a editorial where they labeled the Indian cricket board's action as "malicious and motivated by greed".
The Pakistani daily urged the PCB and the relevant authorities to "resist this dishonest blackmail by the Indian board". The editorial "Malice from the BCCI" in The Nation said that India's refusal to play a cricket series against Pakistan in the UAE is a "breach of contract, plain and simple".
According to the ICC's Future Tour Program (FTP), the number and frequency of matches, both home and away, has been determined for a period of 10 years.
India is "a pioneer of the FTP, and for it to dishonour the agreement it signed is highly disreputable. The disrepute multiples when even a cursory examination of events makes it clear that the Board of Control of Cricket in India's (BCCI) actions are malicious and motivated by greed", the daily said.
While pointing out the security concerns affecting India-Pakistan cricket ties, the daily said: "The escalated tensions between Pakistan and India had already made the possibility of a cricket series between the two unlikely - series have been called off before and will probably be called off in the future too.
Yet neither security, nor bilateral relations seem to be a factor. The BCCI has proposed an alternative series only limited over cricket, to be played in India - apparently bilateral relations are not a problem if the series is played in India."
It also slammed India for not agreeing to play at the proposed neutral venue (UAE) which has been a regular host to international cricket in the past.
"In fact, if there are any security threats they lie in India. Violent crimes against Muslims are on the rise, Shiv Sena is on a rampage, attacking Pakistanis and targeting Pakistan cricket in particular; so much so that India has had to assure Pakistan that matches from the proposed series will be played in venues away from the danger," it added.
With its arguments, the Pakistani daily claimed that the BCCI's decision against playing in the UAE was only motivated by the monetary gains. "A series on Indian soil will bring revenue to India, it holds the broadcasting rights, the ticket sales the advertising choices - in UAE these go to Pakistan. Money is clearly on the BCCI's mind, since it has offered to share some of the revenue to sweeten the deal," it said.
"PCB chairman and the Pakistani government are doing well to resist this dishonest blackmail by the Indian board. They must stick to their guns, plead their case before the ICC, and if need be, take BCCI to court for breach of contract," the daily added.