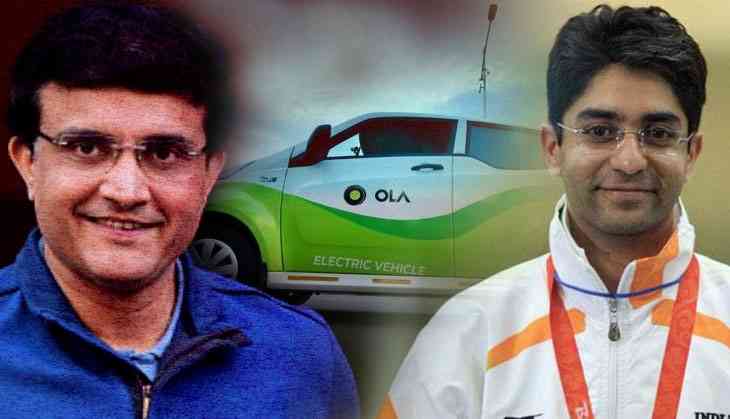 Along with Indian former skipper Sourav Ganguly, Olympic medallists Yogeshwar Dutt, Abhinav Bindra and Mahesh Bhupathi, have provide their support to a nationwide crowd-funding campaign to enhance the sporting talent at the grassroots level.
Ola, the online cab network company has launched the 'Road to Gold' campaign under which its customers can gift a sum of Re.1 per ride across the over 110 cities it operates in.
According to the reports of The New Indian Express the company cited that "The collected funds will be used to identify promising talent from India's heartlands...These future sporting stars will also benefit from support and guidance from Indian sporting legends such as Sourav Ganguly, Mahesh Bhupathi, Abhinav Bindra and Yogeshwar Dutt, among others."
I've always believed that we need to support r athletes not when they have become stars but when they are striving to be one.Grt initiative by @olacabs and @jswsports.Join the #RoadToGold movement & support the development of our young sportspersons. Contribute via the Ola App pic.twitter.com/6MGqFDFQ0x

— Abhinav Bindra OLY (@Abhinav_Bindra) August 6, 2018
जॉइन करें @olacabs और @Jswsports की कैंपेन #RoadToGold। भाग लीजिये हमारे कल के सितारों को आज सपोर्ट करने के लिए। कॉन्ट्रिब्यूट करें ओला ऍप से अपनी हर राइड के साथ। हल्ला बोल। गो फ़ॉर गोल्ड। #jaihind pic.twitter.com/HLJFWhATOa

— Yogeshwar Dutt (@DuttYogi) August 6, 2018
Join me in this superb initiative #RoadToGold by @Olacabs and @jswsports. Support the development of our future sports superstars by contributing via the Ola app with every ride you take. 💪🏿💪🏿 pic.twitter.com/pNg8amH4oB

— Mahesh Bhupathi (@Maheshbhupathi) August 6, 2018
"We are glad to partner with JSW Sports and Excel entertainment who have been staunch supporters of sports in India through infrastructure and entertainment. Together, we share the dream to identify high calibre talent and turn them into medal winning performers," said Pallav Singh, Ola's Senior Vice President.
Also Read: West Indies Vs Bangladesh 2018: Bangladesh's Abu Hider slapped with penalty by ICC for using foul words