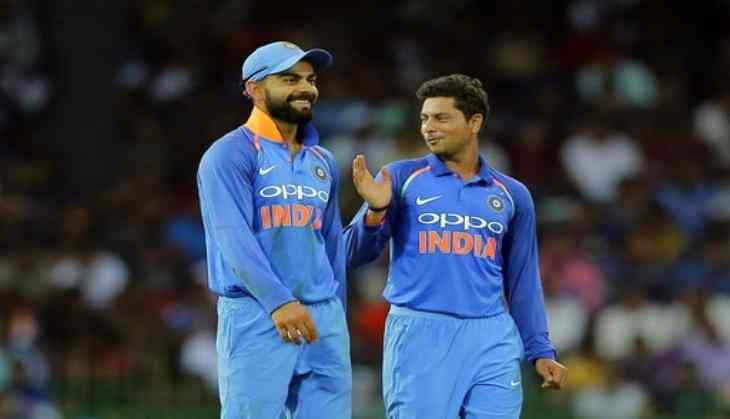 Outstanding performances from Indian skipper Virat Kohli and bowlers helped India beat Australia by 50 runs at the Eden Gardens in Kolkata on 21st September.
India's new hat-trick man Kuldeep Yadav called his 'Hat trick' achievement 'special' against Australia in the second ODI and said former Indian skipper Mahendra Singh Dhoni helped him in achieving this feat. The bowler said that he asked Dhoni how to bowl after sending Matthew Wade and Ashton Agar back, to which Dhoni replied that he (Kuldeep) should bowl as the way he wants.
Man of the match Virat later said, "We didn't feel like we had enough on the board at the break after the first innings. But we knew if we had a good start we have a good chance of defending it. We needed breakthroughs throughout and Bhuvi provided it initially, his spell was something that set up the game for us along with Bumrah and then those two spinners again in the middle overs did the damage. We knew if we don't take wickets, it is going to be difficult with the outfield being a bit wet."
Kohli described the contributions of Indian bowlers, particularly fast bowler, Bhuvneshwar Kumar and spinner Kuldeep Yadav and Yuswendra Chahal as unmatched.
While talking about bowlers Indian skipper said, "Bhuvi's spell became even more important because we knew the wrist-spinners would properly do damage in the middle. The Australians needed a few runs in the first 10 overs and we needed a couple of breakthroughs. He got two wickets and could have got the third one as well, that would have been ideal but I think he really set the tone with the spell. The deliveries he got the batsmen out with were unplayable. That's what he gets to the table. With a bit of assistance from the pitch, you can count on Bhuvi for getting the breakthroughs."