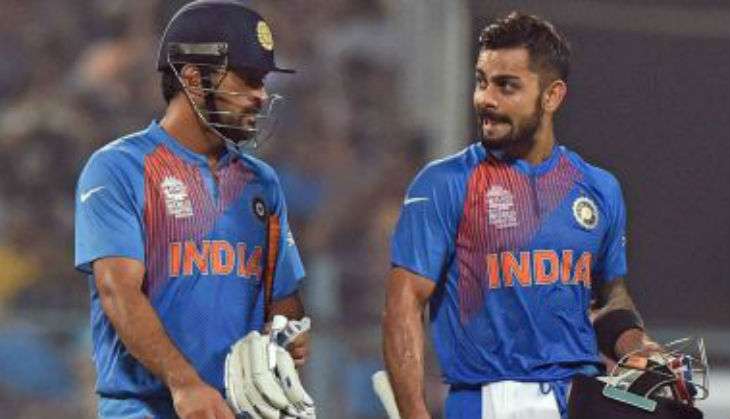 Virat Kohli, who will now steer the Indian cricket team in all three formats, revealed on Saturday that former skipper Mahendra Singh Dhoni saved him (Kohli) from being dropped from the team many a times.
Kohli's international cricket career has been under Dhoni's captaincy since his ODI debut in Sri Lanka back in 2008.
In his initial days - both in ODIs and Tests - Kohli didn't show consistency and his place wasn't secure but Dhoni had immense faith in his talent and abilities.
"He (Dhoni) will always be the person, who guided me initially and gave me opportunities. He gave me ample time and space to grow as a cricketer, saved me from getting dropped from the team many a times," said Kohli on bcci.tv.
Also Read: Virat Kohli is ODI, T20 captain; Yuvraj Singh makes a comeback
India's No. 1 batsman made it clear that replacing Dhoni as a captain is a big task.
"Obviously, these are massive shoes to fill. You think of MS Dhoni and the first word that comes to mind is captain! You don't relate MS Dhoni in any other way. For me he is always going to be my captain," he said.
On Wednesday, Dhoni relinquished captaincy in limited-overs format and the senior selection committee officially handed over the baton to Kohli on 6 January.
Kohli's new assignment starts with the ODI series against England starting in Pune on 15 January.
Kohli has led India in 17 ODIs so far between July 2013 and November 2014. India won 14 matches and lost three under Kohli's leadership. It is for the first time that Kohli was captaining a T20 side in international cricket.
ODI Team: KL Rahul, Shikhar Dhawan, Virat Kohli (cap), MS Dhoni, Manish Pandey, Kedar Jadhav, Yuvraj Singh, Ajinkya Rahane, Hardik Pandya, R Ashwin, Ravindra Jadeja, Amit Mishra, Jasprit Bumrah, Bhuvneshwar Kumar and Umesh Yadav.
--With PTI inputs