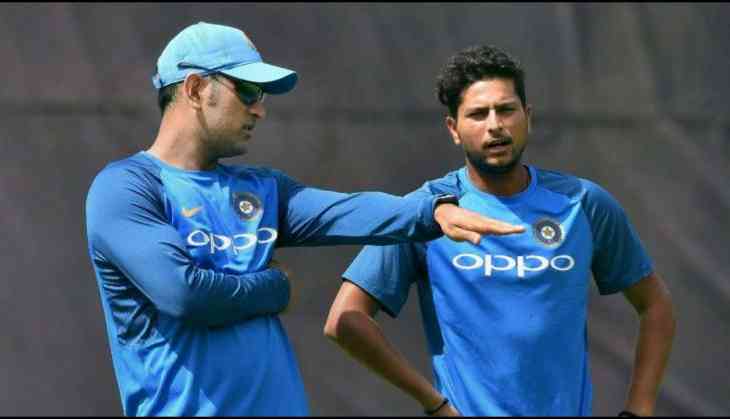 India's World Cup winning skipper Mahendra Singh Dhoni had a demanding responsibility to discharge. In the role of, MS Dhoni had to be aware of every inch of the game, set up field, make bowling changes, plan strategies, and do all this while standing behind the stumps and taking stock of every ball bowled. And how competently did he do that! The wicketkeeper batsman has been one of the most successful Indian skipper the country has ever seen, and he certainly has done a great job behind the stumps.
Not long ago, in an interview, Indian spinner Kuldeep Yadav harked back to how MS Dhoni helped him and his fellow teammate, Yuzvendra Chahal, out during matches.
"Whenever I played with Dhoni, I never felt the absence of my coach, because he would speak to me like one and give me a lot of advice. He would always tell me to focus on spinning the ball, and from behind the wickets, he would release a lot of pressure," Kuldeep Yadav said.
"Sometimes you are only focused on bowling and not the fielding, so he would set the field from behind the stumps.
"He would tell you the little things about what to do in the game before the match. As a senior player, he has supported me and (Yuzvendra) Chahal a lot and handled us very well. The captain (Virat Kohli) was always there for us but his presence was also very crucial," Kuldeep added.
The spinner also called to mind an advice from Anil Kumble ahead of his Test debut. "On the day before my Test debut, he told me at lunch that you have to take five wickets. I couldn't respond for a few moments but then said I'll definitely do it," Kuldeep revealed.
Also Read: MS Dhoni stuns umpire Simon Taufel with witty remark in Cape Town during Test match
Also Read: MS Dhoni or Ricky Ponting: Shahid Afridi passes his verdict on who is better captain