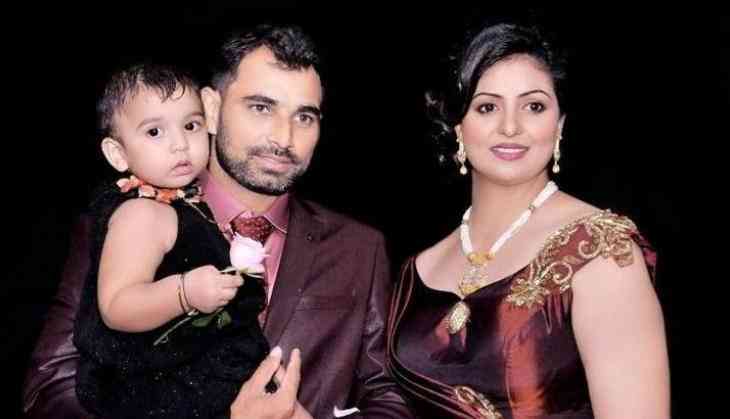 Indian cricket team's fastest bowler Mohammed Shami landed into a controversy when his wife Hasin Jahan shockingly leaked his chats on social media, as evidence and accused him of having multiple affairs. Hasin also accused him of causing her both mental and physical torture for more than two years.
Hasin Jahan and Shami have a three-years-old daughter Airah, and the duo got married in 2014. Hasin also claimed that she has found condoms hidden in his BMW car.
"Whatever I have posted is just the tip of the iceberg. Shami's acts are far more heinous. He has relationships with multiple women," Jahan was quoted as saying by ABP News.
After multiple attempts to unlock Shami's phone, that was password protected, Hasin finally got access to his text messages.
"If I'm not wrong, he was gifted that phone by Delhi Daredevils in 2014. Though, he kept on denying it," she said.
Shami's family is harassing her for more than 2-3 years and threatening her of killing her. However, Hasin has not yet taken any legal action against him.
"Everyone in their family used to torture me. His mother and brother used to abuse me. The tortures continued till 2-3 am in the morning. They even wanted to kill me," claimed Jahan.
Mohammad Shami recently came from three-match test series in January. Hasin added that he would continue to harass her, demanding her to stay tight-lipped on the issue.
"Shami abused me and started beating me even after returning from South Africa. He has been doing this for quite some time now and now I have had enough. I tried to convince myself for the sake of my family and daughter but he kept on harassing me and when I found those obscene chats with multiple women, all hell broke. I cannot tolerate this anymore and I have decided to take legal actions with all the available evidence. Instead of accepting his own mistakes, he used to vent his anger on me and even threaten me, asking to keep mum for my own goodwill."
Also read: Mohammed Shami's wife Hasin Jahan leaked his Facebook chat on social media; accuses him of multiple affairs and assaults
Although, Hasin has informed the local police in Jadavpur, after returning to Kolkata in January when she couldn't bear the harassment anymore.
"I came back to Kolkata from Uttar Pradesh on January 8. At that point of time, I did not want to take legal actions but had informed the Jadavpur Police station verbally," she added.
Earlier, the fast Indian bowler and his wife Hasin Jahan have been slammed on social media over wife's dress in their photo.
Also read: Mohammed Shami reacts on wife Hasin Jahan allegations of affairs and assault, here's what he has to say