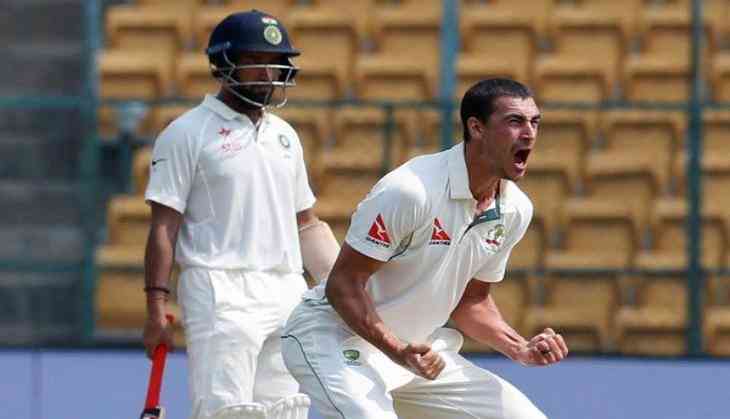 Ahead of the fourth and final Test at Dharamshala, Australian pacer Mitchell Starc has taken a swing at Ravichandran Ashwin, saying that he is eager to bowl at the Indian off-spinner's helmet.
Out of the squad due to injury, Starc is hoping for a return in 2017 Champions Trophy 2017 - to be held in England and Wales from 1 June to 18.
"I look forward to bowling to Ashwin in Australia," Starc said with a laugh.
Cricket.com.au quoted Starc as saying, "(I might) take his advice and hit him on the badge. (The on-field banter has) probably come a lot more from their side than ours."
"There was a lot made of it before the series and there was so much hype before the series. I think we've just gone about the cricket that we have done for a long period of time now," said Starc.
This statement comes after the scuffle between Starc and Ashwin when Ashwin, after dismisisng Starc, kept pointing and tapping his own forehead.
Ashwin reacted to Starc after the latter did the same with Indian opener Abhinav Mukund.
Ashwin dismissed Starc in both the innings of the second Test in Bengaluru on scores of 26 and 1.
The on-going Test series between India, Australia is locked at 1-1.