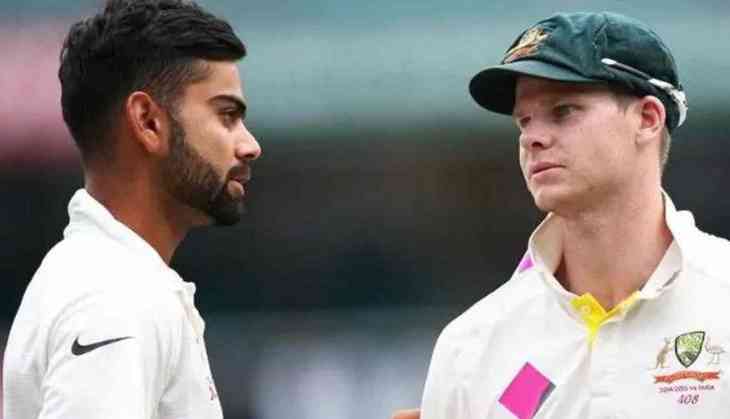 Virat Kohli or Steve Smith? Whether it be fans or the experts, the viewpoints are contrasting. Both these batsmen have made an impression on everyone with their magnificent performances and exemplary consistency for years.
The Indian skipper's matchless record in white ball cricket puts him head and shoulders above the rest, however when it comes to Test cricket, there is a tough competition between Kohli and Australia's Steve Smith.
Australian cricketer Marnus Labuschagne, who is third in ICC ranking along with Ben Stokes has picked out Steve Smith over Virat Kohli in red ball cricket.
"I think Steve (Smith) in Test cricket has just shown in any condition, he can find away. I think that's what you know really makes him the best, number one Test player in the world," Labuschagne told India Today in an exclusive interview.
"He has found a way in India, he has found a way to score in England, he is obviously very consistent in Australia, so it seems that it doesn't matter where are you playing and in what conditions, he is finding a way. Now, Virat has probably done a similar thing. I will probably go with Steve in Test cricket.''
Steve Smith was debarred from all formats of the game after the ball-tampering incident in South Africa in 2018. when he came back, Smith smashed double hundred in the first Ashes Test and three innings after his comeback Smith was back as number one Test batsman in the ICC rankings. The player he replaced was non other than Virat Kohli.
Be that as it may, when it comes to white ball cricket, Labuschagne continues to learn the tricks of the trade watching the Indian skipper.
"Virat's white-ball cricket is phenomenal. The way he finishes innings, the way he finishes matches off, the way he chases. I think for me personally, I have learned a lot from him."
Labuschagne has made significant progress in the past year. He was the leading run-getter in Tests in 2019 and also leads the run tally in World Test Championship. Labuschagne became cricket's first concussion substitute when he replaced Steve Smith during the second Ashes Test since then there is no looking back for the 26-year-old.
Talking on his golden run Labuschagne stated that, "It's been a really exciting year, you probably could not have expected the way it turned out. To go to Glamorgan and perform there and then to be able to take it to the Ashes and then into the home summer.''
Marnus Labuschagne looks to maintain his good form with the bat and follow stalwarts like Virat, Smith and David Warner.
"As a cricketer, you go through a period and you have done really well and I know the teams are going to be even more prepared then they were before, they will come harder at me. For me, it's about not putting one performance together but to be as consistent as I can. You know there are so many examples, there is Virat, Steve Smith, David Warner, these guys are putting seasons back to back together for the last ten years. So there are some good people leading the way there, my aim is to try and follow that."
Also Read: When Sourav Ganguly described MS Dhoni as a 'Chabuk batsman' in team India