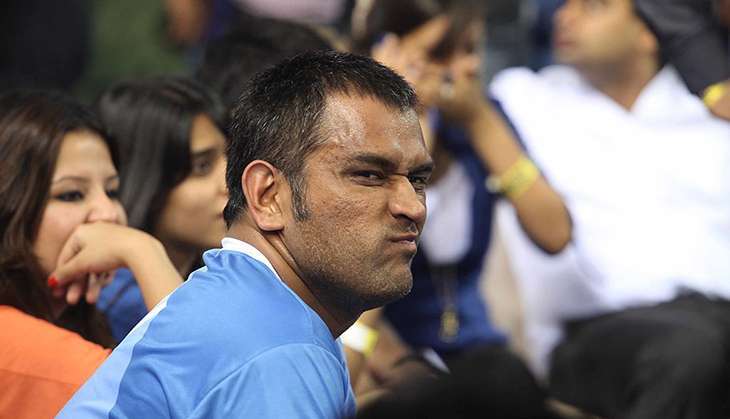 India's 'captain cool' Mahendra Singh Dhoni turned 35 on 7 July.
The limited-overs skipper has led Team India to greater heights under his term as captain. Under his watchful eye, Team India bagged the top spot in the ICC Test Rankings in December 2009. The men in blue also went on to win the 2011 Cricket World Cup. In 2013 Dhoni became the only Indian captain to win a Champions Trophy.
While his achievements on the field are a thing of legend, not many know about Dhoni's life off the field.
Do you know why he wears a #7 jersey? The number seven is special for Dhoni, who was born on the seventh day of the seventh month of the year. He has been vocal about his love for the number. He also has a line of perfumes named 7 by MS Dhoni.
On his birthday, here are seven lesser-known facts about him:
1. Dhoni is a huge fan of motor vehicles and a car freak. His Hummer H2 is among his favourite rides.
2. His love for bikes has led him to own 23 bikes - of which the Harley Davidson is his top pick.
3. Before putting on the wicket-keeping gloves, Dhoni was a ticket collector in Indian Railways.
4. He is also skilled in the fields of football and badminton. Before he ventured into cricket, Dhoni was a goalkeeper for his school football team.
5. Dhoni has three dogs: Sam, a German shepherd, Zara, a black Labrador and Zoya, a Weimaraner.
6. He is a self-proclaimed Kishore Kumar fan.
7. Dhoni shares his birthday with Kailash Kher.
On 7 July, #HappyBirthdayCaptainCool took over Twitter, as giants of the cricketing world and fans alike scrambled wished him on his birthday. Take a look:
HAPPY BIRTHDAY, CAPTAIN @msdhoni here's wishing you loads of success and happiness #HappyBirthdayCaptainCool pic.twitter.com/oAn34NOXTM

— BCCI (@BCCI) July 7, 2016
Happy Birthday Most Successful India Captain -Supergiant MS Dhoni. ❤🎂#HappyBirthdayCaptainCool pic.twitter.com/2H6e7czIiC

— Pune Supergiants FC (@RPsupergiantsFC) July 7, 2016
HappyBirthday Captain.A totally Selfless cricketer &a wonderfully amazing person..Respect. #HappyBirthdayCaptainCool pic.twitter.com/hhrKys9rbG

— Sushant (@itsSSR) July 7, 2016
"Dhoni Is The Best Captain I Have Played Under."- Sachin Tendulkar#HappyBirthdayCaptainCool

— Sir Ravindra Jadeja (@SirJadeja) July 6, 2016
The best thing that happened to Indian Cricket after Kapil and Sachin ..
We call him Thala Dhoni :)#HappyBirthdayCaptainCool

— The Protagonist (@fidonomics) July 6, 2016