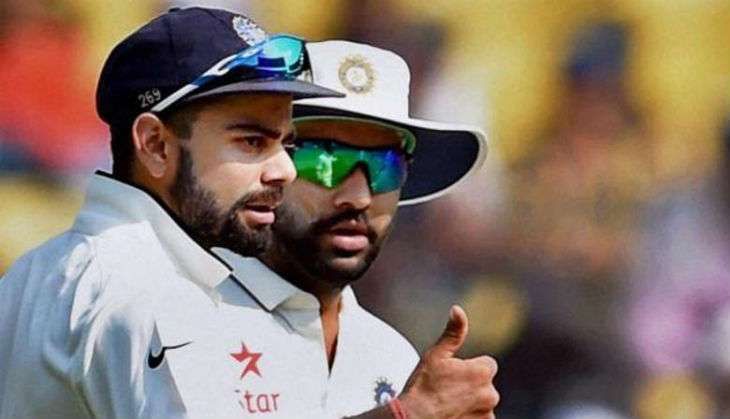 The bowlers may have performed exceptionally well during India's memorable win in the 500th Test in Kanpur. However, Indian captain Virat Kohli feels it was his team's lower-order batting which made a "psychological dent" on New Zealand.
"One of the most important things in Test cricket is to have a strong lower-order who can contribute and this is one area we are working hard with the bowlers, everyone from Ashwin onwards wants to contribute and that puts a psychological dent on the opposition," Kohli said in the post-match presentation.
"They think they can get you out for 300 but you end up getting 340-360 and thus the momentum shifts from the opposition. We have improved in this area and we need to keep working on it because those 40-50 runs will be crucial when we play abroad," he added.
Ravindra Jadeja scored unbeaten 42 and 50 runs in the first and second innings, while Ashwin contributed 40 runs in the first essay during the opening Test in Kanpur.
"The boys have applied themselves really well. Few moments we were in a spot of bother. Initially we had momentum with us when we were batting but then couple of soft dismissals and we were at the back foot. But Jadeja and Ashwin batted really well in the first innings. Umesh also contributed and those 30-40 runs make a psychological difference," Kohli said.
"They were batting really well at one stage and it takes character to come out and get those early wickets in the first session.
"I am still early in my captaincy and I take advise from others. We have attacked in one mode in the past and then runs have leaked aplenty and this one learning we are taking forward that when wickets don't come we have to be patient, cut the runs down and put pressure on the batsmen," he added.
Kohli described it a memorable win and also credited New Zealand for showing character and guts to fight it out despite being in a tough position when they were set a target of 434 by India.
"It has been a memorable Test match. It has been very good right from the second day onwards when New Zealand were batting really well and me and Ashwin were chatting that it is going to be an exciting Test and we have to play our best to keep them under pressure," he said.
"They showed good resilience and resistance and that is something you want to see from opposition. I think credit goes to New Zealand as well, the reason that match went on to the second session on day 5 because of the character and guts that they showed. I am sure the series will get more competitive as we go on," he added.
--PTI