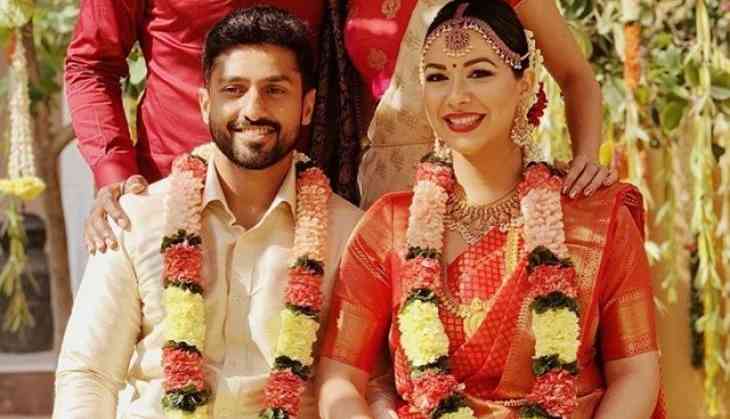 Karnataka cricketer Karun Nair, only the second Indian player to knock a triple hundred in Test cricket when he scored an unbeaten 303 against England in Chennai in 2016. He is also the only Test batsman in the cricketing history to convert debut century into a triple hundred.
But in spite of that, he failed to consolidate his place in the Indian team after scoring only 71 runs in his next five Test games. After his last Test against Australia in 2017, the selectors have not rendered much attention to the cricketer.
In the meanwhile, Karun Nair's personal life seems to be on the right track as he tied the knot with his long time girlfriend Sanaya Tankariwala. Nair had proposed to Shanaya in 2019 before they got engaged on a vacation in June in the same year.
Jharkhand cricketer Varun Aaron was also present at the wedding. Taking to his official Instagram, Aaron posted a picture of him and his wife with the newly wedded couple and wrote, "To a lifetime of love and happiness !!???????? @sanayatankariwala @karun_6."
Also Read: James Neesham reacts to picture of Shikhar Dhawan, Chahal and Shreyas Iyer flaunting their 'six-pack' abs
Talking about his triple hundred back in 2018, Nair had told everyone to get over it. "It's been two years already and I think it's time we moved on. The past is gone and we have to look ahead to what's ahead; I don't think it should be a disadvantage at all," Nair was quoted as saying by Cricbuzz.
"For all, it can only be an advantage, people know what I can do now, I don't need to prove it to myself or to anyone that I can score runs at the international level because I have done it before. That kind of self-confidence I have, and I don't need to prove it to anyone," the cricketer added.
The 28-year-old has been a driving force in the domestic cricket. In 77 first class games, he cumulated 5446 runs at an average of 49.5. Which includes 14 hundreds and 25 fifties.
Also Read: Shikhar Dhawan interviews KL Rahul after taking over Chahal TV, gives hilarious reason for leg-spinner's absence