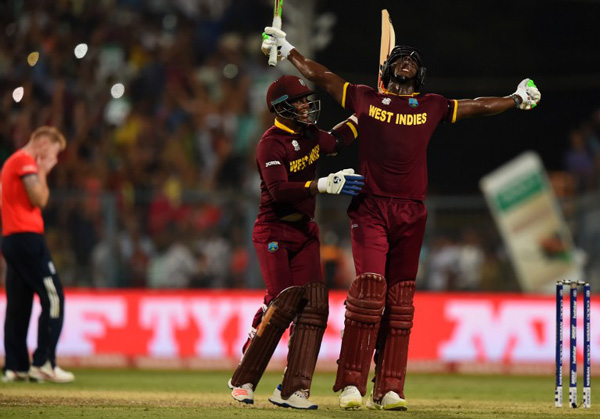 Delhi Daredevils Chief Executive Officer (CEO) Hemant Dua feels that Carlos Brathwaite's magnificent match-winning effort in the World T20 final will bolster the confidence of the beleaguered franchise as the dashing right-hander has the ability to bring the fans back to the stadium.
West Indies all-rounder Brathwaite hit four back-to-back sixes off England's Ben Stokes to win the final at the Eden Gardens in Kolkata in a thrilling finish.
"Any kind of performance by a cricketer, who plays for your franchise, helps to bring in the confidence back. What he did was not easy to do under pressure on a platform like a World Cup final. Such a performance will definitely help the fans regain the lost. It's good to bring those people back in the stadium," Dua said on franchise's prized recruit, who was bought for Rs 4.2 crore during the IPL auctions earlier this year.
Dua said he is happy but it's not a sense of vindication considering that the franchise were asked a lot of questions behind their aggressive bidding for the big West Indian.
"I don't call it vindication. Any athlete can be a performer on his day. It was his day. We went in as a franchise. We saw talent and spark and that's why we bought him," the CEO said.
Dua also had a word of caution for all those who are expecting herculean effort from Brathwaite everytime he goes out to bat. Dua shared his philosophy on how one can insulate a player like Brathwaite or Pawan Negi, who will have constant spotlight on them.
"If we look at the West Indies side, there was not a single match-winner. There was a Chris Gayle, a Lendl Simmons, a Marlon Samuels, everyone performed. That's how we expect it in Delhi Daredevils. It was Brathwaite's day and he performed. Similarly, there will be Negi, Chris Morris, Mayank Agarwal or a Shreyas Iyer performing for the team," he said.
The CEO also seemed confident that skipper Zaheer Khan's body will hold during the tournament, where the schedule is hectic.
-PTI