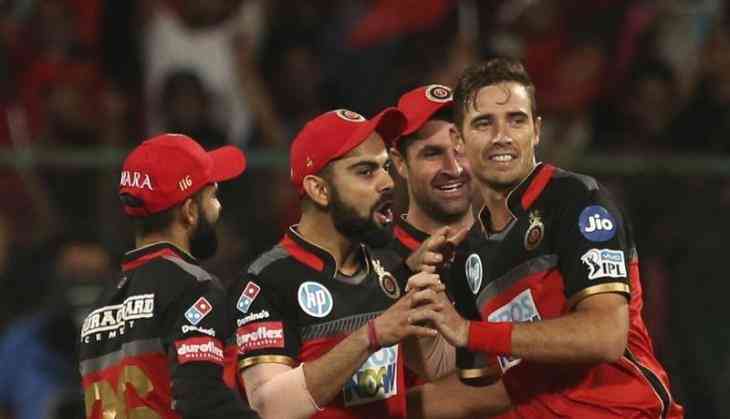 Royal Challengers Banglore finally posted their third win against Mumbai Indians after losing matches back to back. Tim Southee was awarded the man of the match award for his amazing performance. Southee later credited his performance to Virat Kohli for inspiring the team to put out their best performance. Tim took 2 wickets and conceded just 25 runs in his 4 overs' spell. He spoke to the reporters at the post-match press conference and said that Kohli's captaincy made things easier for him in the final stages of the match.
"It got a little bit close towards the end. But I think Virat (Kohli) backed the guys to go out there and back their strongest skill set, and we saw that with the way Siraj closed out his last over and made my job a little bit easier with a few more to defend. I think we assessed the conditions and we executed majority of the time," Tim Southee said.
The New Zealand bowler further added that RCB managed to judge the pitch and were successful in taking the conditions into their advantage.
"There was a little bit of assistance there with the swing and we were able to take those early wickets. And once it stopped swinging, we adapted to that, to the cross seam deliveries which were holding [up on the] the surface and moving a little bit off the surface as well. So, I think we were reasonably smart as a bowling unit and we were able to assess the conditions," Tim added.
While Mumbai Indians' IPL tour looks like getting close to a dead end, team's bowling coach Shane Bond still looks optimistic. He expressed the possibility of turning the tide their way in the remaining matches. "We have six games left and we have to win them all. That is what we have to do. I still believe when you look at our squad, we have key players who can win us six games in a row. We have done it in the past (in 2015) and I believe we can do it again," the former New Zealand player told reporters.
Also Read: IPL 2018, RR vs DD: Rajasthan Royals look for a place in top four while Daredevils struggle at the bottom