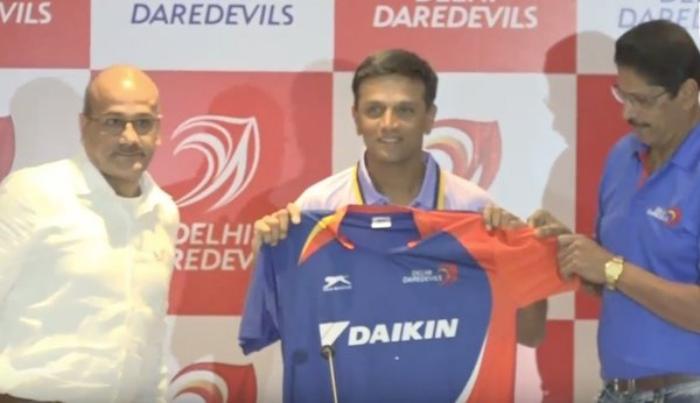 Indian Premier League (IPL) giants Delhi Daredevils on 1 March announced the appointment of former Indian batsman Rahul Dravid as their team mentor for the ninth edition of the tournament scheduled to begin from 8 April.
Apart from Dravid, the Delhi franchise also unveiled South Africa's Paddy Upton as their head coach. Former Mumbai Ranji Trophy opener Zubin Bharucha was named as the Director (Technical) of the side.
The new-look support staff took charge of the side on Monday, on what was also the first day of a training camp, scheduled to last till March 4 at the TERI ground in Gurgaon.
Delhi Daredevils Business Chairman Kiran Kumar Grandhi welcomed the trio and was hopeful of them making an impact with the young group of players in the set-up.
"We are privileged to have Rahul joining Delhi Daredevils as a mentor. His deeds as a player are legendary. Now in his post-retirement phase Rahul has taken up the arduous tasks of guiding India A and India Under-19 squads. He has made an instant impact in his new avatar too. We are very lucky to have a player of his stature in our midst. He brings in calm and experience to the dressing room and with a young looking Daredevils squad he will bring an immediate impact," said Mr Grandhi about the appointment of Dravid as team mentor.
It will be reunion of sorts, as the trio of Dravid, Paddy Upton and Bharucha have worked together previously at the Rajasthan Royals too.
"Paddy has had a successful career as head coach for T20 franchises around the world. This was most visible in the recently concluded Big Bash League, as he guided Sydney Thunder to their maiden title. He has grown in stature from starting as a trainer to being the mental conditioning coach of the Indian squad and eventually the Head Coach. Zubin, on the other hand, with his years of technical experience brings in his strategic inputs and an eye for spotting young talent," added Mr Grandhi.
The remaining support staff for the season features former India cricketers TA Sekar, Pravin Amre, Sridharan Sriram and physios in Paul Close and Vaibhav Daga, who were also part of the squad last year.
"We are confident that our Coaching/Support Staff this year which is primarily Indian in nature will be able to bring their knowledge to the fore and our young players will benefit immensely from it," further added Mr Grandhi.
On his part, Mr Dravid was thrilled to be named as mentor of the side. "I am very excited by the challenge of taking Delhi Daredevils on to the next level. From what I have seen I have been impressed by the ambition and energy demonstrated by the team and I look forward to working with a group of players that I believe have what it takes to succeed. Along with the rest of the support staff, I am fully aware of what this franchise means to its supporters and I intend to do everything possible to help build a team that the fans can be proud of."
For Paddy Upton too it was a moment to savour as he combines forces, yet again, with Dravid and Bharucha. "I relish the privilege to work again with Rahul and Zubin, and to have the opportunity to do so at a franchise like Delhi Daredevils. I am constantly learning about the Twenty20 format as I move around the world, and look forward to applying and furthering this knowledge at the coming IPL season with Delhi."