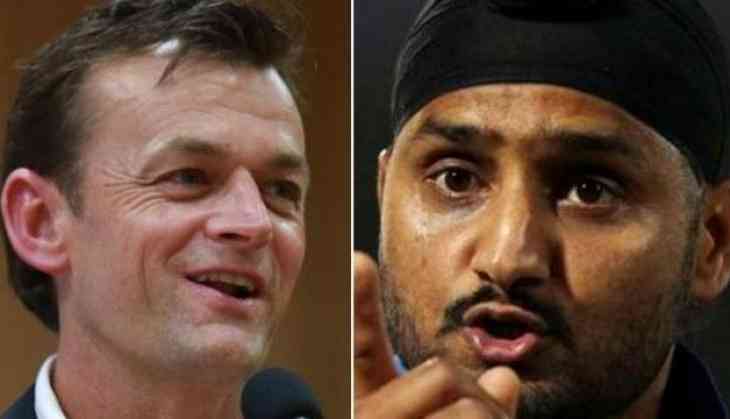 Former Indian cricketer Harbhajan Singh slammed on social media after he took a 'mean' dig at Australian legend Adam Gilchrist. Days after Jasprit Bumrah became the third Indian to take a Test hat-trick, an old video of Harbhajan Singh's historic hat-trick in 2001 started doing rounds on twitter.
Adam Gilchrist was the third victim of Harbhajan Singh in the video that clearly shows that umpire wrongly called it a leg before when the Australian batsman can be seen hitting the ball inside edge.
A fan who shared the video got a reply from Gilchrist himself, who said "No DRS". Gilchrist pointed out that the time when Harbhajan took the hat-trick was a time with no DRS (Decision Review System). If DRS had been a part of the game at that time, Gilchrist would have survived and Harbhajan would not have got the hat-trick.
The reply didn't go down well with Harbhajan who took a dig at Gilchrist. Harbhajan replied, "U think u would have survived for long if not first ball? Stop crying over these things mate..thought u would talk sense after ur playing days.. but few things never change u r the prime example of that. Always crying."
Harbhajan, however, deleted the post after facing backlash on twitter but the damage was already done and people took a screenshot of it.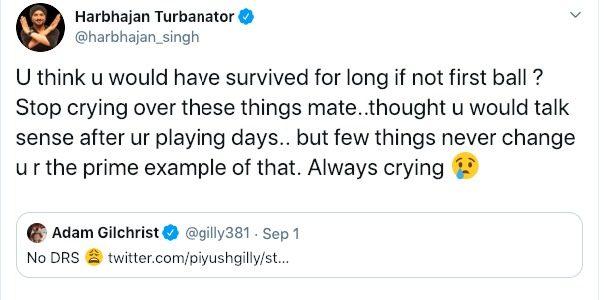 Harbhajan's tweet
No DRS 😩 https://t.co/3XsCqk9ZiR

— Adam Gilchrist (@gilly381) August 31, 2019