Rohan Raj
| Updated on: 20 August 2015, 3:34 IST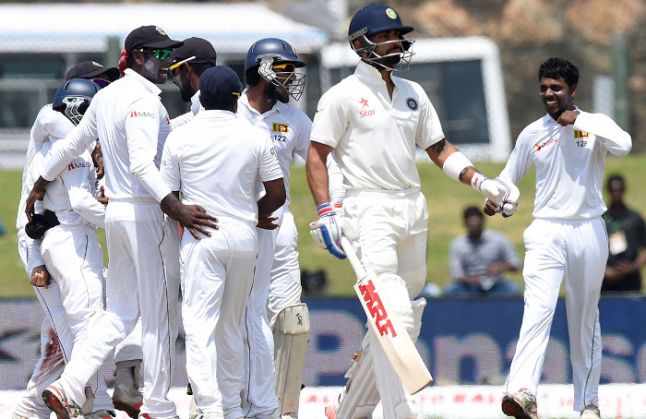 After being choked to a shocking defeat in the 1st Test, the Indian team will be looking to make amends in the 2nd Test against Sri Lanka who are leading 1-0 in the three-match series. 2nd Test Preview
Five years ago, the Indian team was pretty much in the same situation during their tour of the island nation. Team India was trailing 0-1 going into the 3rd and final Test at Colombo in 2010, desperately requiring a win to level the series against the hosts.
Led by MS Dhoni, the Indian team conceded 425 runs in the first innings after an unbeaten 137-run knock by the Sri Lankan middle-order batsman Thilan Samaraweera. But Virender Sehwag's gritty innings of 109 runs ensured India took a slender lead of 11 runs. Suresh Raina (62) and VVS Laxman (56) also contributed towards India's total of 436 runs in the first innings.
In the second innings, Samaraweera (83) continued to dominate the Indian bowlers alongside mystery spinner Ajantha Mendis (78) as the Lankans set India a challenging total of 257 runs.
India, who were ranked No. 1 in Tests at that time, got off to a bad start and lost four wickets for a mere 62 runs. Sri Lankan spinner Suraj Randiv got the better of Murali Vijay (27), Sehwag (0), Rahul Dravid (7) and Ishant Sharma (4) - who was promoted in the batting order.
A victory was highly unlikely for the tourists who were on the verge of losing yet another series in Sri Lanka. But against the popular perception, India made a spectacular comeback riding on the batting heroics of Laxman (103*).
Laxman and Sachin Tendulkar (54) stitched a crucial partnership of 109 runs for the fifth wicket to steady India's run-chase. After Tendulkar was dismissed by Randiv with 86 runs still left to chase, Laxman found adequate support from Raina (41*) to steer India home.
India fought against all odds, including the probing Randiv, to post a five-wicket win and more importantly, saved themselves from losing the three-match series in Sri Lanka.
Here's what Virat Kohli's men can learn from MS Dhoni-led India's thrilling win in 2010:
Middle-order can make a difference
India's win in 2010 wouldn't have been possible without the strong performance by their middle-order, something that Virat Kohli's side dearly missed in the 1st Test at Galle. The middle-order comprised of Sachin Tendulkar (54), VVS Laxman (103*), Suresh Raina (41*) and MS Dhoni (DNB) scored 198 runs collectively to anchor their team's run-chase of 257 against the Lankans.
The current Indian brigade, that played with five specialist bowler at Galle, had Virat Kohli, Ajinkya Rahane and Wriddhiman Saha in the middle-order. Though Rahane was cheaply dismissed for a golden duck, Kohli (103) and Saha (60) were amongst runs in the first innings. However, when India needed their middle-order to rescue their chase of 176 runs, the three batsmen could only manage to score 41 runs collectively in the second innings.
On one hand where a strong showing by the middle-order had helped the MS Dhoni side to turn the tables on the opposition in 2010, its utter failure in the recently-concluded Test at Galle only added to the misery of Virat Kohli's team.
Partnerships are key to a successful run-chase
While chasing a competitive total of 257 runs in 2010, India had lost four quick wickets and were reeling at 62/4. The team desperately needed a partnership that was adequately provided by batting legends Sachin Tendulkar and VVS Laxman. The duo added 109 runs for the fifth wicket that helped MS Dhoni's side to make a comeback in the game. After Tendulkar got out with another 86 runs left to chase, Laxman and Suresh Raina ensured their team didn't lose any wicket while steering India home.
During the Galle Test, Virat Kohli's men failed miserably to build crucial partnerships while chasing a modest total of 176 runs. The team saw its highest partnership between Ajinkya Rahane and Amit Mishra who added 21 runs for the ninth wicket. Out of the top six Indian batsmen, only two could manage to score in double digits with Rahane's 36 being the highest for India.
India need a Laxman in Rahane
Each time India needed a recovery, VVS Laxman stepped up his game and delivered while batting at the No. 5 spot. In 2010, when the Indian team was staring at a possible defeat in Colombo, Laxman played a valuable innings of 103* that was decorated with patience and poise. While spending 203 minutes at the crease, Laxman constantly searched for singles and seemed to have more time than the rest to play his shots. His quick adaptations to the varying lengths of the opposition bowlers helped him in neutralising potential threats.
Ajinkya Rahane has cemented his place at the No. 5 spot with some memorable performances since his debut in 2013. However, during the 1st Test, Rahane failed to make an impact as India capitulated to a 63-run loss. After being dismissed for a golden duck in the first innings, Rahane was expected to rescue India who lost four wickets for a mere 45 runs in the second innings. The right-hander tried to build his innings but could only manage 36 runs before losing his wicket to Rangana Herath. Virat Kohli's side needed someone to anchor their run-chase and failed to find support of their star batsmen.