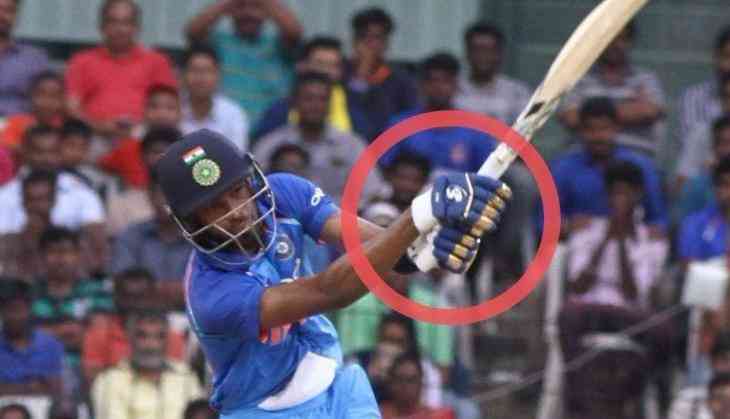 Team India all rounder batsman Hardik Pandya, who once again proved that he is an explosive batsman of 'Men in Blue', caught many eyeballs because of the gloves that he wore in the opening ODI of the five-match series at the MA Chidambaram Stadium on 17th September.
All-rounder who bats right-handed and bowls right-arm medium-fast also plays for Baroda in domestic cricket and Mumbai Indians in the Indian Premier League (IPL) and was spotted wearing IPL gloves. It is uncommon that a cricketer wore IPL gloves in an international match.
Pandya (83, 66b, 5×4, 5×6) along with MS Dhoni (79, 88b, 4×4, 2×6) blew Aussies and put on 118 runs for the sixth wicket to rescue India after the major top-order collapse.
The 23-years-old explosive player earlier pointed that his life has been changed after joining Mumbai Indians and thinks that franchise cricket team representing the city of Mumbai, Maharashtra is the lucky charm in his life.
Over the years, we heard many stories of superstition in cricket and probably it could be one of those.
Pandya himself revealed the reason of wearing Mumbai Indians gloves in the first ODI.
"At Mumbai Indians, they just wanted me to enjoy my game and I was just a young kid expressing himself, and who eventually got success. I was getting used to the fame. No one knew who Hardik Pandya was before 2015 IPL. I got picked for Rs 10 lakh. If people knew me I would have got a lot more money, not that it's only about the money. I was from a struggling family. Well, we had a good family and then things changed, father's health and all had a grave effect. That helped us. Where we are standing now is because of that situation. It is because how we coped with that," Pandya had said in an interview to Indian Express.