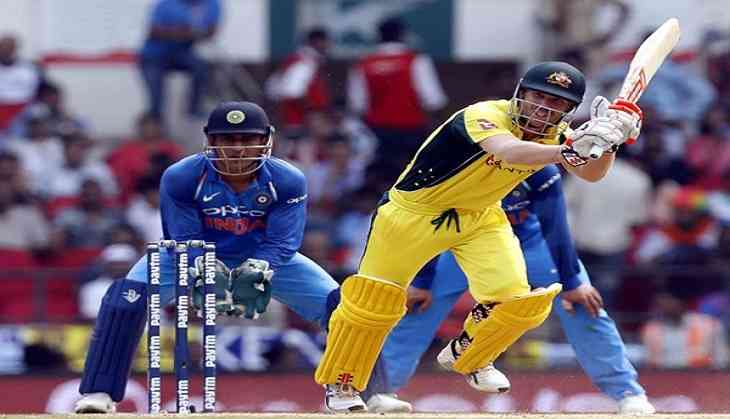 Ahead of three-match T20I series against Australia, beginning 7 October in Ranchi, Australian coach David Saker on 3rd October said that players in his team are scared to play against Indian side.
"A lot of them are playing a little bit scared, which we try not to do. We try and make sure they play with a lot of freedom and express themselves as much as they can. But when you're losing, you play scared, you go insular and you start looking after number one," Saker said quoted by The Indian Express.
"I think there's little bits of that. It's not dramatic and we know we can fix that. I think the talent is there."
Dominant performance from India saw them comfortably beat Australia in the final ODI of the five-match series at the Vidarbha Cricket Association Stadium on Sunday, thereby clinching the series 4-1.
"Obviously, our away form has been quite dreadful so we have to have a look at that," he said. "The next World Cup is away (from home). I don't think it's all doom and gloom, I think there's some talent in that team. But there's no doubt we have to probably re-jig a few things and see where we're at," Saker added.
Australian player are now training themselves for upcoming three-match T20I series.
"Bringing almost half the squad in who haven't been here for the four weeks so far is going to be exciting, and exciting for them," he said.
"In Twenty20 cricket we're definitely going to go out there (to) express ourselves and have some fun. After a long tour, India can sometimes get you down and wear you down but getting five or six new guys into the squad after what's happened in the one-day series, we'll be really determined to bounce back."
The Indian T20I squad is as follows:
Virat Kohli (Captain), Rohit Sharma (vice-captain), Shikhar Dhawan, KL Rahul, Manish Pandey, Kedar Jadhav, Dinesh Karthik, MS Dhoni (wk), Hardik Pandya, Kuldeep Yadav, Yuzvendra Chahal, Jasprit Bumrah, Bhuvneshwar Kumar, Ashish Nehra, Axar Patel.