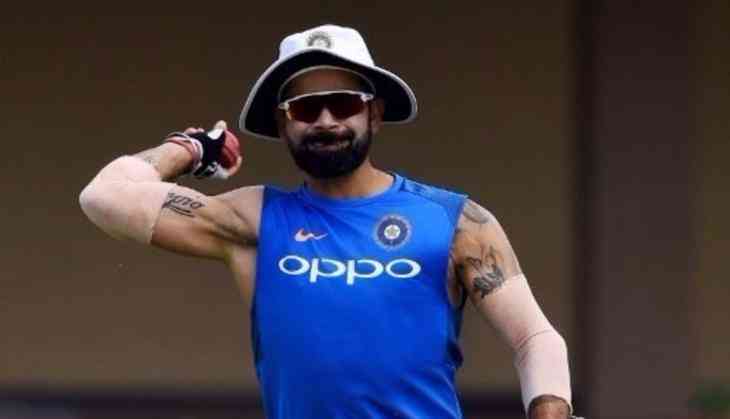 Indian skipper Virat Kohli will head towards scripting a history in T20 cricket with his bat against Australia in the second T20 match to be played against Australia in Guwahati on 10 October.
After defeating Australia by 9 wickets in the first T20 international match in three-match T20I series, the men in blue will play on 10 October with the thought of winning the series.
Opportunity to break Dilshan's record
Kohli has great opportunity to break former Sri Lankan opening batsman Tillakaratne Dilshan's record.
Kohli needs 38 runs in the Guwahati to become the player of holding record of making the most runs in T20 International Cricket.
Kohli has scored 1852 runs at an average of 54.47 while he was not out for 13 times in 47 innings of 51 matches in International T20.
Currently, Kohli is the third batsman in the world in terms of making the most runs in T20 International. Dilshan has scored 1889 runs in T20.
So far, the Indian Skipper hit 17 fifties in T20 matches and his highest score is 90 in T20. Kohli has so far scored 199 fours and 35 sixes in T20I.
As far as scoring highest runs in T20 are concerned, New Zealand's batsman Brendon McCullum has scored the most runs in Twenty20 International cricket with 2140 runs in 71 matches at an average of 35.66.
Currently, Virat Kohli-led team India is leading the series by 1-0, if they win today's match, India would win three-match T20I series against Kangaroos, then it will be for the first time in last 70 years when they will beat Australia in four consecutive bilateral international series. India has defeated Australia in 3 consecutive series earlier. 3-0 in the T-20 series in Australia in 2016, 2-1 in the Test series on Indian soil and 4-1 in the recent ODI series.
The last international match in Guwahati was played in November 2010 against New Zealand. In that ODI match, India defeated visitors by 40 runs.
Guwahati is hosting an International Cricket match after the gap of seven years.