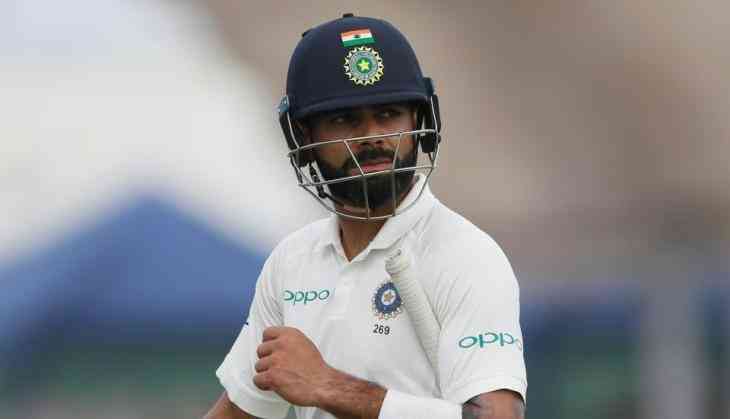 The 'record breaker' of Indian cricket team Virat Kohli is breaking all the records and setting a new standard for the cricketers of this generation. It was recently when Virat Kohli had out-shined ace footballer Lionel Messi by 1 million in brand value, in the list revealed by Business magazine Forbes. Virat is placed at the seventh spot in the ESPN's list of world's most famous sportsperson. Virat had broken many records and he is on the verge of breaking many more. Virat Kohli has become the sole Indian player to make it in the world's 100 highest paid sportsman on the latest Forbes list.
The first Test match against Sri Lanka had ended in a dramatic way. Even though the match was a draw, yet the curiosity of cricket fans was high because of all the Twist and turns. On Monday Indian skipper Virat Kohli declare Indian inning at 352-8, just after he completed his century.
After Virat declare the inning, the start for Islanders were not good as they lost their openers Sadeera Samarawickrama and Dimuth Karunaratne early. And just like that men-in-blue were back in the game.
Even though the Indian team had made a big comeback yet the game was a draw.
Meanwhile, Indian skipper, Virat Kohli managed to make these records on the first Test match.
Also Read: Ind vs SL: Virat Kohli hits his 50th International century in style, creates another record
1- Virat Kohli joins the list of quickest to 50 International Tons, by hitting his 50 centuries in 348 matches.
2- The Indian skipper Virat Kohli is the first India captain to score a century and a duck in the one Test.
3- Virat Kohli equals the record of Ricky Ponting (2005 and 2006) and Graeme Smith (2006) by hitting nine century in a year.
4- Virat Kohli become second Indian after Virat kohli and 8th batsman overall to score 50 International tons.
5- Virat Kohli suppress his own best by scoring century in 119 balls, his last fastest ton in Test was on 129 balls.