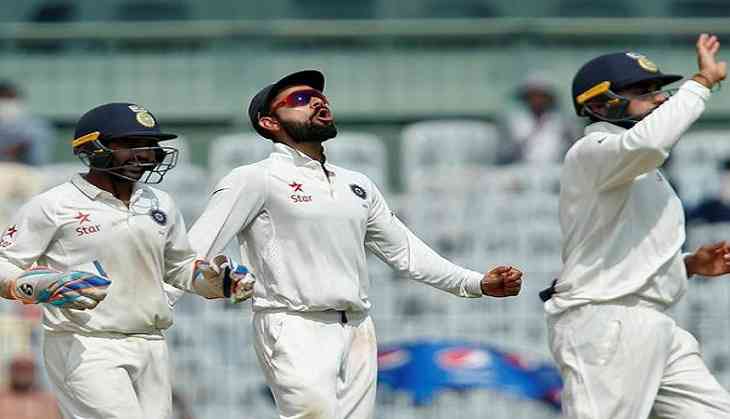 In the midst of first day of the second Test against Sri Lanka in Nagpur, Indian skipper Virat Kohli was spotted dancing on ground. It was time when Indian spinner Ravindra Jadeja was bowling against Niroshan Dickwella.
Jadeja bowled a long delivery towards the leg side, Dickwella reached the ball of the ball and rotated his bat fast towards midwicket. Ishant Sharma, standing at the mid-wicket, took a simple catch and helped Jadeja to take wicket. Then the camera turned towards Virat Kohli who was doing 'Bhangra' when Dickwella was going out of the field.
What got Virat Kohli dancing? https://t.co/X6ebe9PYGI #BCCI

— aratrick mondal (@crlmaratrick) November 24, 2017
Sri Lankan cricket team appeared in front of Indian bowlers on the first day of the second match being played at the Vidarbha Cricket Association (VCA) stadium. The trio of Ravichandran Ashwin (67-4), Ishant Sharma (37-3) and Ravindra Jadeja (56-3), piled up the visiting team at 205 in the first innings.
Jadeja took 3 wickets for 56 runs on the first day of the second Test against Sri Lanka. Whereas spinner Ashwin took 7 for 64 runs. On his bowling in the second Test, Jadeja said, "I am very happy with the way I bowled today. I did not get any help from the pitch and I was putting the ball in places."