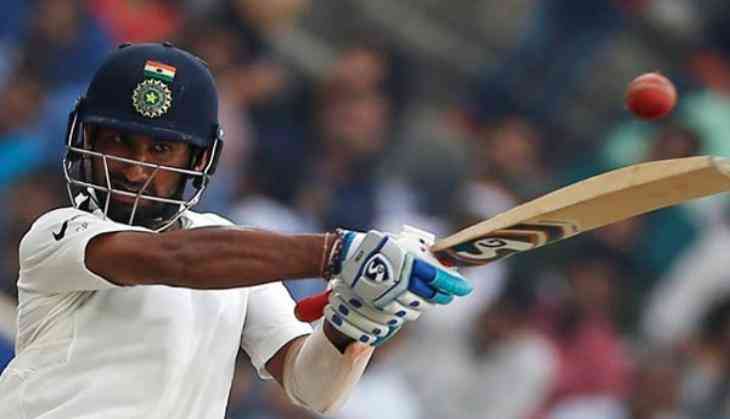 The dependable Test batsman of India Cheteshwar Pujara has equaled a unique record and became third Indian batter to do so. On the fifth day of the 1st Test against Sri Lanka in the three-match Test series at the Eden Garden, Pujara entered into an elite club of batsmen who had batted on all five days of a Test.
On the day 1 of the Test match, Pujara came to bat after KL Rahul was dismissed at the first ball on zero runs. The cricketer came to bat under a bad condition due to rain and bad lighting. The player was the top runner for India in the first inning. He scored 52 runs on 117 balls to become the top scorer of India. He played for three days in the first inning.
During the second inning on the 4th day, after Indian opener, Shikhar Dhawan went back at the personal score of 94 on 116 balls. Once again Cheteshwar Pujara came to bat. Then on the fifth day, Pujara resumed his batting along with a set batsman Rahul. And just like that Cheteshwar Pujara became the third Indian batsman to play in the all five days of the first Test match.
Other than Pujara two India Test batsmen ML Jaisimha and head coach of India Ravi Shastri have also achieved this feat. Ravi Shastri has achieved this feat in the year 1984, while ML Jaisimha has done this it in 1960 against the Australian team.
Chetshwar Pujara on Monday become the third Indian and 8th all over all player in the world to achieve this feat.
Also Read: Yuvraj Singh to make a comeback ahead of 2019 World Cup, details inside
Here is the list of players who have done this before:
ML Jaisimha (India)
Geoffrey Boycott (England)
Kim Hughes (Australia)
Allan Lamb (England)
Ravi Shastri (India)
Adrian Griffith (West Indies)
Andrew Flintoff (England)
Cheteshwar Pujara (India)