Rohan Raj
| Updated on: 10 February 2017, 1:46 IST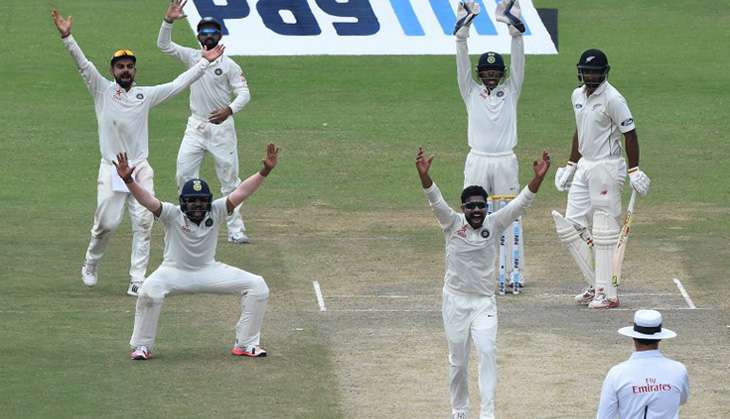 The Indian cricket team won its historic 500th Test, Ravichandran Ashwin became the second-fastest bowler to reach 200 Test wickets, Ravindra Jadeja notched up his fifth five-wicket haul in Tests and even Rohit Sharma managed to get some runs but still, the one thing that goes unnoticed is the questionable 22-yard strip.
While playing at home, India has often attracted criticism for producing rank turners to boost their chances of winning a Test. Now, some might argue that there is nothing wrong in preparing pitches for home advantage, all countries do that; but how is it better for the game?
The sight of Team India asserting their supremacy in home conditions would surely enthrall their fans, but the same team failing to survive the opposition challenge on a green top overseas will only leave the fans disoriented.
Over the past four-five years, the Indian team management has often preferred pitches where Test matches would end within three days. The last home series against South Africa is a classic case. But, what is the point of hosting a Test match if it ends in three days? Apart from the ascension in ICC rankings, are we gaining anything from such games?
We call it Test cricket because it is ideally supposed to test a player's skill from Day 1 to Day 5 at every level. It should give everyone a fair chance to succeed at that level. So, why does our great game needs to be tampered with in favour for results?
The Kanpur Test didn't end inside three days and the Green Park turf was surely not a raging turner. But, the fact that 26 wickets were taken by spinners in the two innings highlights India's dependency on spin-friendly surfaces to win a Test.
Even contest on Day 2
One one hand, where New Zealand spinners were accounted for 10 dismissals, the Indian spin combo of Ashwin and Jadeja shared a whopping 16 wickets among them. The Indian spinners were undoubtedly more experienced and familiar of the conditions, but they still couldn't make a mark till the third day when the wicket had actually worsened for batting.
The second day's play, when the Kiwis began their first innings, highlights the case. We had a near perfect innings featuring two excellent spinners at the top of their game, bowling against batsmen who were using every sinew of discipline and technique to counter them.
It was an even contest with both the batsman and bowler trying to outwit each other with their respective set of skills - something you would expect in a five-day format. Unfortunately, the next three days completely took the Kiwis out of the equation as Ashwin and Jadeja ran amok.
What if it backfires?
The idea behind producing spin-friendly wickets at home is to aid Team India whose strength, atleast in bowling, has always been spin. Now, the strategy might work on majority of occassions, but against an experienced side featuring capable spinners, the move can surely backfire.
India's 2016 World T20 clash against New Zealand in Nagpur is a vital example. The Kiwis read the conditions brilliantly and the spin trio of Nathan McCullum (2), Ish Sodhi (3) and Mitchell Santner (4) bowled India out for a mere 79 runs to seal a 47-run win.
In such a case, are being fair to our batsmen? And, is the gamble actually worth it?
Forgetful South Africa series
The Mohali Test against South Africa last November is a case in point, as the spin trio of Ashwin, Jadeja and Amit Mishra shared 19 wickets to rout the Proteas within four days on a slow, turning wicket.
But as that home series progressed, the pitches got worse. The third Test in Nagpur ended within three days. It was a low-scoring series, with only two batsmen, Ajinkya Rahane (266 runs in six innings) and AB de Villiers (258 runs in seven innings), crossing the 250-mark in four Tests.
The Nagpur pitch came in for fierce criticism, compelling the International Cricket Council (ICC) to launch an investigation to find out if it was suitable for play at all.
Since losing a series to England in 2012/13, India have won ten out of the past 11 Tests at home. They have not just won them either; in most instances they have taken apart the opposition. But, majority of those results were derived at the helm of turning tracks.