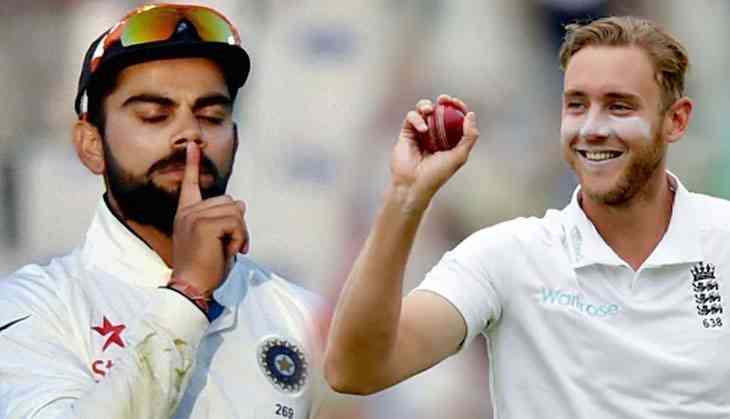 Virat Kohli led Indian cricket team is all set to clinch the Test series at the Edgbaston cricket ground in Birmingham on Wednesday after losing the ODI series against England in England.
The 32-year-old veteran pacer Stuart Board mark who makes a comeback after recovering from ankle injury. While on the other hand England have plans to restrict a Indian skipper Virat Kohli.
India's bowling department will be effected in the absence of Bhuvneshwar Kumar and Jasprit Bumrah. However, Indian middle order is muddling in current era.
As reported in NDTV website "I really don't agree with the theory that one particular bowler can target a world-class batsman," Broad was quoted as saying by the International Cricket Council (ICC) website.
"You have to have that pressure and theatre at both ends against that sort of quality -- that's when you get mistakes. If he's able to really watch Jimmy (Anderson) and play carefully but score off me, you're taking away any advantage as a team.
"As a bowling unit, we will just have to make it as hard for all of their batsmen to score early runs, but particularly a key player like Virat. We have to try and create pressure that way," he added.
"I am going in 100 percent fit and you can't say that too often. It's an exciting place to be," he said.
"There have already been small conversations about you shouldn't be disheartened if you are left out for a Test match," he said.
"It's not a personal attack or dropping: it's a management of your bowlers to make sure we give ourselves the best chance," he added.
Also Read: Rohit Sharma took a pic of his wife Ritika secretely; her reaction after seeing it will amuse you!