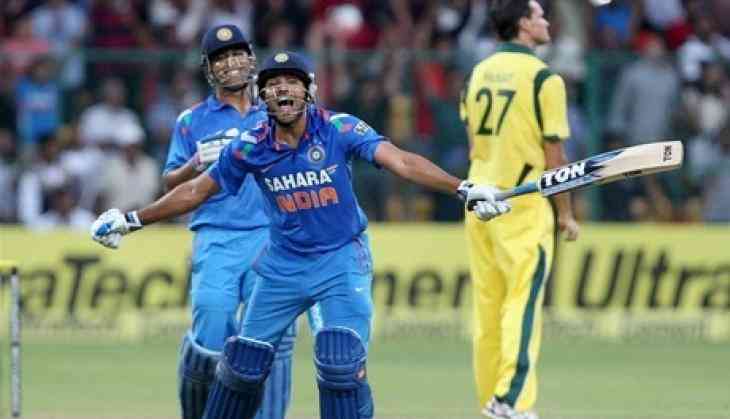 Rohit Sharma and Virat Kohli has broken records in 2018. The 31-year-old came out and proved himself when handed captaicy in Nidahas Trophy, Asia Cup and in T20Is against West Indies.
Rohit Sharma can break three records in the ongoing T20I series against Australia. Sharma can become the leading run-scorer in the world, he can surpass Kohli in becoming the batsman to score most number of runs scored in a calendar year and the 'Hitman' can also become the first Indian to hit 100 sixes in T20Is.
After becoming the first batsman in the world to score four centuries in T20Is, Rohit Sharma is on a brink in breaking yet another record. Sharma needs 65 runs to surpass New Zealand's Martin Guptill in becoming the highest run-getter in T20Is in the world.
Rohit Sharma has 2,203 runs in 86 innings while Martin Guptill has 2,271 runs in 75 innings as of wikipedia suggests.
Rohit Sharma can also become the first Indian batsman to hit 100 sixes in T20Is. The 'Hitman' who is regarded as one of the most efortless batsman has already smashed 96 sixes in T20Is and is just four sixes away from achieving this feat.
Rohit Sharma is also just 81 runs away from breaking Virat Kohli's record of scoring most number of runs in a calendar year. Virat Kohli achieved this feat in 2016 when he scored 641 runs in a year, meanwhile Sharma have already scored 560 runs in 2018.
Rohit is currently playing the T20I series against Australia. The first match is being played at Brisbane and the match has been interrupted due to rain. India skipper Virat Kohli won the toss and elected to bowl first, while the Australians scored 153 runs losing just 3 wickets in 16 overs.