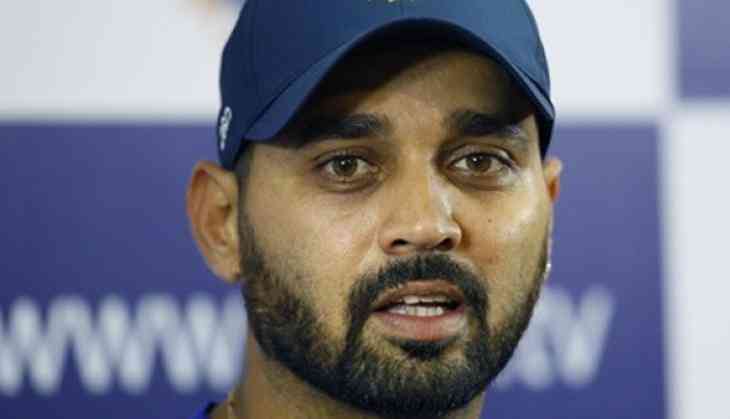 Murali Vijay regained his form while playing for Essex after being dropped from India's Test squad but the opener insists that neither he tinkered with his technique during his County stint nor he played there to reclaim his place.
The Tamil Nadu opener endured a poor run in England, making 20, 6, 0 and 0 in the first two Tests and was dropped. Subsequently he signed up for Essex and scored a ton and three half-centuries.
"There wasn't any adjustment. It was a great experience because it wasn't easy. I should thank Essex for having me and giving me an opportunity to play the way I wanted to. We had crucial three matches, and it really motivated me. I could step up and contribute, so I was happy to gain some experience there, he said.
"I never went to play County to get back into the Indian team. I felt it was important to get some runs and play good cricket. It so happened that I could do well (there) which gave me that extra bit of chance to get back into the side, Vijay said after Tamil Nadu's Ranji Trophy opener against Madhya Pradesh in Dindigul.
Vijay said the Indian team management has done well by arranging enough practice games ahead of the Australia Tour, where the team is scheduled to play a four-Test series from December 6.
Before that, India will play a three-match Twenty-20 series, beginning November 21 in Brisbane.
"For me it's a mental game. It's never been a question of my ability. This time we have planned pretty well. We are going a little early and we are going to get a few practice games as well in Australia before we play the first Test match.
That will be ideal for us. Hopefully our boys can gel as a team and put their best foot forward, Vijay, who scored 482 runs at an average of 60.25 during India's last tour of Australia in 2014-15.
Vijay, who will be part of the India A' team that is leaving for New Zealand later this week, said though the conditions would be different from those Down Under, it was about getting some match practice and some runs under his belt.
Vijay said he was ready to face the challenge posed by Australia's premier spinner Nathan Lyon during the upcoming series.
"You can't allow a bowler of his Lyon's caliber to settle into his rhytm. We both had a good competition going on the last time we played and it will be great to once again take him on and put him under pressure, he said.
The Test player, who underwent a surgery in April this year to heal a wrist injury, said he had to alter his training methods.
"At that point in time I couldn't bat the way I wanted to and had to alter my preparation as well. Basically, I wanted to be fresh for a game. It gave me a lot of understanding of my game during that time and now that I am fully fit, I feel it still makes a lot sense to save your energy. Sweating it out just immediately before the game wasn't helping me," he said.
-PTI