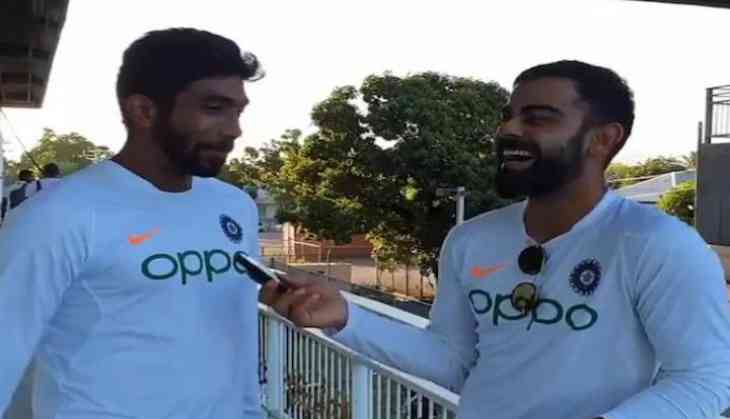 India skipper Virat Kohli is in awe of Jasprit Bumrah's brutal bowling skills that he once again proved against West Indies. Virat Kohli feels Jasprit Bumrah is the most complete bowler in the world right now. Bumrah who came as a limited-overs specialist has now become a one go stop for the skipper in all formats.
Virat Kohli said after India's 257-run victory over West Indies, "It's really pleasing to see a guy who was tagged a T20 specialist, he came and took over the ODI scene and now Test cricket. He is proving people wrong that there is a set template for every format."
"He (Bumrah) definitely wants to be the best bowler in the world. He has moulded his life like that, he has moulded his discipline, his work ethic. The way he trains, the way he takes care of his diet, he has absolute control over what he is doing," Kohli added.
Jasprit Bumrah claimed a hat-trick in the second Test match against West Indies and became the third Indian bowler to achieve the extraordinary feat in Test cricket. Harbhajan Singh and Irfan Pathan were the only Indian bowlers to do so.
Bumrah picked up two five-wicket hauls in the recently concluded Test series against West Indies. Bumrah is the only Asian bowler to have taken a five-wicket haul in South Africa, England, New Zealand, Sri Lanka and West Indies.
Also read: Pakistan PM Imran Khan slammed by ex-wife Reham Khan over Article 370