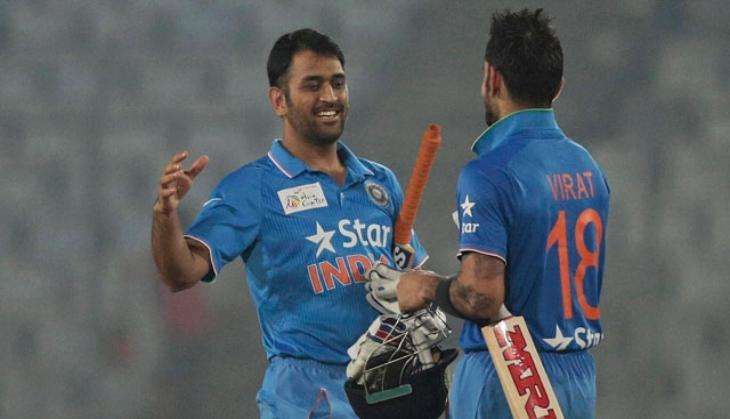 Gary Kirsten, on 1 November, during a press conference in Police Gymkhana in Mumbai, asserted that Dhoni should not be replaced and he should continue playing as the captain of India in limited over cricket.
"If anyone doubts his ability, I think they would be making a grave mistake. You replace MS Dhoni at your peril," said Kirsten. He further added, "The experience that I have had is that all great leaders have great performances until the end of their careers. Till the end. So if you're willing to let MS Dhoni go, and you know that he might have potentially a great World Cup performance left in him, then you take the risk of that."
When Kirsten coached team India, he was widely remembered as saying, "I would go to war with this guy by my side."
India defeated New Zealand 3-2 in the recently held five match One Day International under the captainship of Dhoni. However, Dhoni's not-so-good performances in recent times have raised some questions about his retirement. While some believe he still has some gas left in the engine for the next ICC World Cup 2019, there is always another group who feel it's time for Dhoni to pass the baton to Virat Kohli.
Commenting on Dhoni's retirement, the former Indian coach said, "There comes a time for a great player when he has to consider for himself whether he should still be in the team or not, or if it's time to move on. But I think we'll leave that decision to him," he said.
Here are some of the reasons why MSD should not retire now:
The whole world remembers the final nail-biting over of Joginder Sharma, which brought India the maiden ICC T20 World Cup 2007. Defeating Australia in the semi-final, India was up against Pakistan in the finals of the T20 WC.

Chasing India's 157 runs, Pakistan had to score 13 runs of the last over. Mahendra Singh Dhoni was captaining his side for the first time in any major event. Everyone thought Harbhajan Singh would get the final over, however, in a surprising turn of events, Dhoni chose the Haryana pacer to bowl the last over. The rest is history.

Had it not been for Dhoni's courage and gamble, things may have been different.

2013 Champions Trophy final against England was a crucial one as India had to defend a mere 129 in a rain-struck game. As fans remember, the match was about how Dhoni caught his opponents off-guard and took a risk by giving Ishant Sharma to bowl the 18th over of the game.

Through out the game, Ishant Sharma was an easy target for the batsman and was hit all around the ground. However, with Eoin Morgan and Ravi Bopara at the crease, Dhoni gave Sharma the ball. It was this over when Sharma, in consecutive deliveries. removed Morgan and Bopara from the stumps to give India a real chance at a victory.

Since Sharma was an easy target, the batmen would've liked to finish the game. Capitalising on this mindset, Ishant Sharma became Dhoni's new Joginder Sharma.

Often known as a master finisher of the game, Dhoni has always stepped up to the occasion and finished the game off in style. The six which he hit off Nuwan Kulasekara in the 49th over will always be remembered by the whole nation. His 46 not out vs West Indies at St Lucia, 3rd ODI, 2009 was also remarkable. And, how can one forget the 72 not out vs Pakistan during the third ODI of India's tour of Pakistan 2006 in which Pervez Musharraf complimented Dhoni for his hairstyle. He said, "I saw a placard asking you to have a haircut. But, if you were to take my opinion, you look good in this haircut."

Experts have always spoken about how singles build continuous pressure on the bowling team as it maintains a decent run rate for the batting squad.

Dhoni has been a master between the wickets. Having a distinctive running style and a buttery pair of legs, Dhoni has built crucial partnerships in the middle with batsmen, be it Yuvraj Singh or Viraṭ Kohli. With the constant runs coming from between the wickets, Dhoni along with his accomplices has managed to give the bowlers a tough time plenty of times.

Only lately, Dhoni went on to bravely accept his struggle with rotating the strike as he became India's aid to finishing woes.

When Dhoni made his way into the Indian cricket team, he was surrounded by experienced players who had been playing for the country for years. As they all retired one by one, Dhoni being the young captain, developed a young squad.

There were doubts flying around regarding the ability of the youngsters to handle the bat of the legends but Dhoni backed them all anyway and the rest they say is history.

It was this young and fierce squad, who under the leadership of MS Dhoni, made the biggest statements in the cricketing world.

It has been under the gloves of Dhoni that stars like Viraṭ Kohli, Ravichandran Ashwin, Ravindra Jaḍega, Suresh Raina and more have been nurtured.

The recent young bloods like Manish Pandey, Hardik Pandya have also been backed and encouraged by Dhoni.