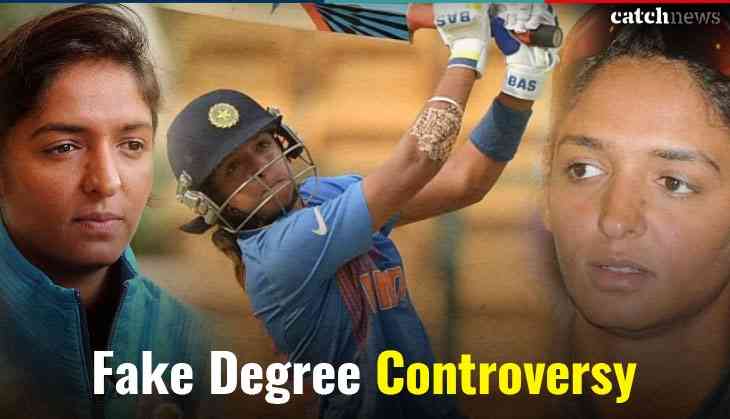 Shocking news reports have come to light that Indian women cricketer Harmanpreet Kaur has been terminated from the posts of Deputy Superintendent of Police. Earlier, before four months, Indian women's T20 captain Harmanpreet has been received the DSP rank job in Punjab Police. Later, the controversy raised because of her graduation degree which has been found as fake, say reports.
Harmanpreet had joined Punjab Police as DSP from 1st March 2018. However, Harmanpreet had submitted her 2011 graduation degree which had been issued by the Chaudhary Charan Singh University in Meerut.
According to the reports of TOI, the state government has written to Harmanpreet that from now onward her educational qualification will be considered as Class 12th only, therefore, Punjab Police would be retained her as Constable in the police department, not DSP.
As per the Punjab Police rules, Harmanpreet eligibility is not matched with the DSP rank qualification, therefore, she would be demoted from the rank of DSP, say reports.
The educational qualification of the 29-year-old Indian Cricketer degree was verified by the Punjab Armed Police, Jalandhar where they found that the roll number and enrolment number mentioned in her graduation degree does not in the records, TOI reports.
There is also the possibility that the player can also lose her Arjuna Award if Police wanted to files an FIR against her fake degree. Harmanpreet has also served Indian Railways but got relived after getting the job in Punjab Police department.
She has been offered the DSP rank in Punjab Police by the Punjab CM Amarinder Singh after her outbursting performance in the ICC Women's World Cup 2017. She had played brilliantly in the World Cup match and her whopping 171 runs against Australia helped the team to reach the final.
Watch Video:
Also read: This woman cricketer got married to her fellow All rounder team mate, see pics