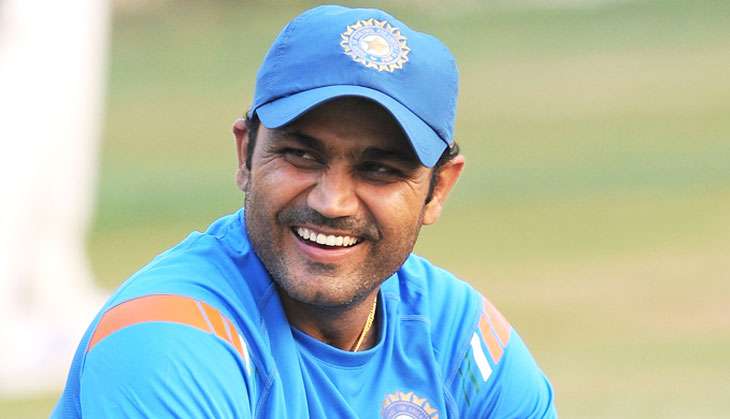 Virender Sehwag aka Nawab of Najafgarh, born on 20 October 1978, revolutionised the Indian Test cricket opening format forever. Playing 104 Tests and 251 One Day Internationals, Sehwag etched his name in the books alongside other cricket legends.
With hisnon-existent footwork, powerful batting strokes and short strides down the wicket, Sehwag was no less than a nightmare for bowlers. Sehwag, who turns 38 today, has given a lot of memorable moments to Indian fans to cherish. Even though he has call quits on his cricketing career, he makes his presence felt via Twitter in a rather inimitable way.
Let us take a look at top five Test innings of his career:
1. India vs South Africa, Chennai: Scoring the fastest triple century ever - just off 278 runs deliveries, Sehwag blasted 319 runs. Referring to his performance, opposition coach Mickey Arthur termed it the 'best Test innings he has ever seen'. So far, it still remains the highest Test score ever by an Indian.
2. India vs Pakistan: The most memorable of the lot, Sehwag became the first Indian to score a triple century in Tests which helped India win its first Test series in Pakistan. Earning the nickname Sultan of Multan, Sehwag scored a blistering 309 off 375 runs. In his innings, he literally destroyed the bowling attack of Pakistan by hitting 39 boundaries.
3. India vs Sri Lanka (2008): Keeping the team in the game, Sehwag's 201 not out was one of the most patient innings that he has ever played. As Sri Lanka continued to take wickets, India was tumbling. It was Sehwag who kept the ball knocking around the ground, helping India register a win in the Test. Ajantha Mendis, the mystery bowler who was just rising to the fame, was hit by Sehwag for 70 runs at a strike rate of 90.90.
4. India vs England (2008): Helping India win the series 1-0, Virender Sehwag's quickfire 83 comes under one of the memorable innings a cricket fan would cherish. With a target of 387, Virender Sehwag from the very first over charged the English bowlers and hit them beyond the ropes.
Sehwag hit Harmison for 14 runs, followed by smoking Monty Panesar over midwicket to bring up India's 50 off 32 balls. In just 23 overs India reached 117/1. It was due to his blistering opening score that India got a head start.
5. India vs Australia (2008): Virender Sehwag's 151 runs helped India to win the game. During the third Test, Sehwag scored a typical 90 runs off 63 balls in the first innings and scored 151 runs in the second innings which helped India set a target of 269 to the Aussies. Had it not been for Sehwag's bat, India could have bundled out for a small score which could have been sour for the team.