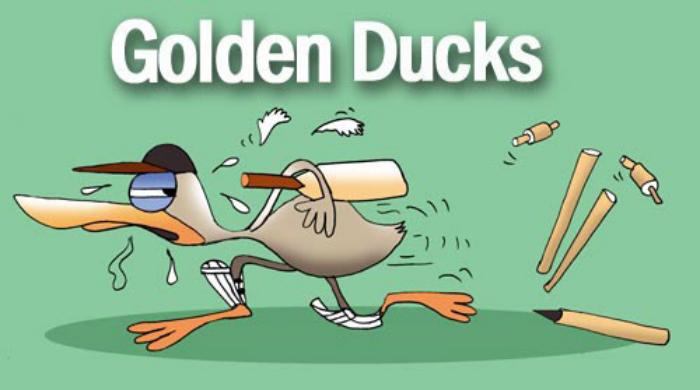 In the era of modern-day cricket where the advent of T20 cricket has glorified swashbuckling batsmen, the general perception revolves around the quickfire innings decorated with big sixes. There have been sensational hundreds, massive run-chases and even some notable bowling spell.
However, just when you think you've seen it all, think again. An English cricket team sent ripples across the globe after being dismissed for naught during a county six-a-side indoor championships final earlier this week.
A hodgepodge bunch of cricketers from an English village in Kent became only the second team in cricket history to register the infamous score. Somerset club Langport had set the record when they were bowled out for zero in 1913.
The infamous scorecard pic.twitter.com/CReA8vtggk

- CCSU Cricket (@CCSUCricket) February 11, 2016
Josh Hunt, Dan Pomfrett, James Sutton, Chris Hogg, Owen Harrison and James Weller were the partners in crime who failed to score a single run for Bapchild Cricket Club against the Christ Church University.
"We all couldn't really believe it to be honest, bowling a team out for 0, especially indoors as all they needed to do was hit a wall to get one run," Christ Church spinner Mike Rose, who wasn't required to bowl, told the Crawley Observer.
Christ Church, after batting first, lost just one wicket to post a total of 120 runs which also included 25 wides. The team followed that by knocking Bapchild over in just 20 deliveries. Fraser McWhinnie took a hat-trick and finished his spell of two overs with figures of 3/0, while Philip Semmens also took three wickets in his spell of 1.2 overs.
Every Bapchild batsman was either bowled or caught by the wicket-keeper. There were also polite boos from the crowd after the umpires denied a leg bye to Bapchild who were searching for their very first run.
The lowest score in a first-class match was recorded by The Bs against England when they were dismissed for six runs at the old Lord's ground in 1810.
New Zealand holds the record for the lowest score in a Test match. The Kiwies were bowled out for 26 runs in the second innings during the Auckland Test against England in 1955.
Granted they hadn't played for a few months. Also, there was no practice leading up to the match and, not to forget, it was a six-a-side match. The young Bapchild team has made the news for all the wrong reasons.