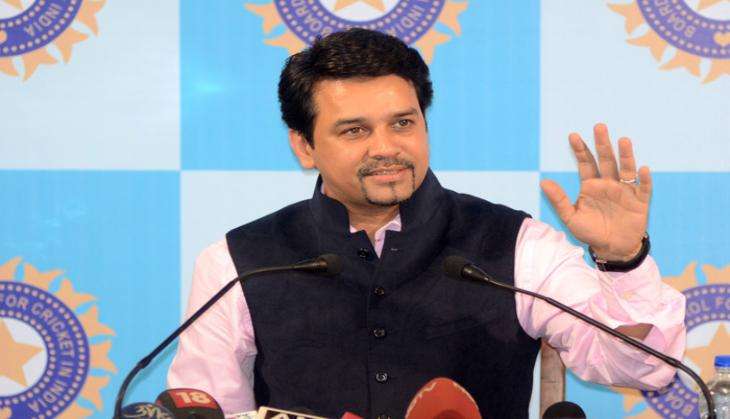 With the BCCI facing Supreme Court-appointed Lodha panel's deadline on implementing major reforms in the world's richest cricket body, its president Anurag Thakur said that people who had not played the game were trying to administer it.
"People who have never even played the game, they are trying to govern the board. Efforts are being made to cut BCCI's roots," said Thakur in his address as chief guest of an event organised by the PHD Chamber in New Delhi.
The Supreme Court had upheld most of the sweeping recommendations of the Lodha panel including age cap of 70 for the BCCI office-bearers, cooling off-period, one state one vote and ban on ministers and bureaucrats.
Among other recommendations upheld by the apex court is that an office-bearer cannot hold multiple posts in BCCI or its affiliated units and Thakur is also the president of the Himachal Pradesh Cricket Association.
Earlier this week, the Lodha Panel had given a deadline to the BCCI to comply with a set their recommendations after it held a long meeting with Board secretary Ajay Shirke.
Seven of the 11 recommendations need to be implemented by September 30 and the remaining four by October 15.
Some of the recommendations also deal with constitutional reforms, awarding various contracts including the lucrative TV rights and changes in the IPL rules which will require the Board to keep a 15-day gap between the T20 league and international calendar.
The BCCI is also expected to submit a compliance report on the implementation of reforms by August 25.
Thakur, at the same event, also hit out at columnist Shobhaa De for her controversial tweet about the Indian athletes competing in the Rio Olympics.
"Her remarks were in bad taste. It was unbecoming of her. The athletes have to shed a lot of blood and sweat to reach the highest level," he remarked.
"Goal of Team India at the Olympics: Rio jao. Selfies lo. Khaali haat wapas aao. What a waste of money and opportunity," De had posted.