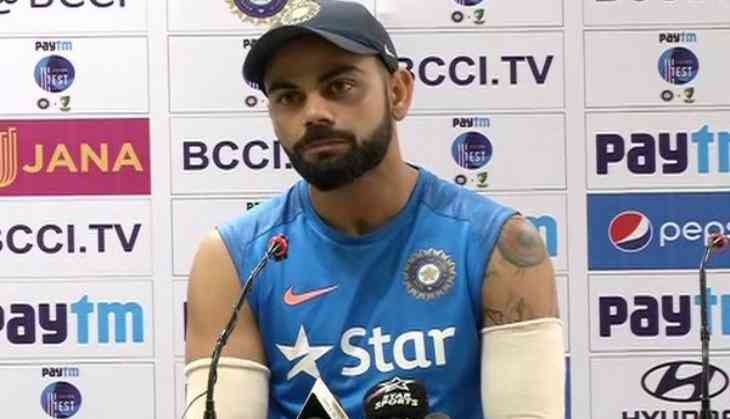 Indian skipper Virat Kohli has insisted that he stands by the views he expressed after the Bengaluru Test, adding that he doesn't have any regret about what he said.
Kohli had been facing the wrath of many, especially the Australian media, for claiming that the visitors 'crossed the line' at least twice following the DRS controversy, involving Australian skipper Steve Smith, that took place during the Second Test which India won by 75 runs.
During the pre-match press conference on Wednesday, Kohli was specifically asked about the 'allegations' he had made during the Bengaluru Test.
When the journalist elaborated on it, Kohli still insisted on the exact nature of allegation. "But what is the allegation called? It has to be called something for me to be questioning something about someone to call it an allegation. If no charges were pressed against me how were they allegations?" Kohli asked.
When the concerned journalist again asked Kohli if he stands by his claim that Australia had 'crossed the line' on DRS at least twice, the Indian skipper said, "As I said we need to move on and focus on the game tomorrow. There are two sides of the coin. I could be speaking about it again and things are not going to move forward."
"Everyone sitting here has their own interest and they choose to ask what they want to. But our focus remains on the game and we need to look forward."
"I think about what I say. I don't regret anything that I have said but at the same time, it's very important not to be stupid and go on with the same thing on a daily basis because there's cricket to be played. There was a decent break in between," Kohli said.
The 28-year-old also said that it was a matured decision on everyone's part to move on and focus on the remaining games of the four-match series.
"We certainly don't want to sit and think about one thing. We have cricket to play, we have two Test matches to play and that's what we are focusing on," he said.
"It was a matured decision on everyone's part to move on.It's good for everybody that everyone moves on because there are two sides of a coin. One side will say one thing, the other side will say another and that just takes away the focus of the game. So, it's in the best interest of everyone that we move on and focus on the game," he added.
Kohli also maintained that he doesn't think about the criticism he faces and instead tries to focus on his game.
"It does not matter to me honestly. I don't start a series saying focus on me, speak on me or write about me. It's not in my control. If people choose to write about me or speak about me, that's their choice," he said.
"Whether it is criticism or praise it's all happened in the past as well. These things are detached to me. It's their job. They are doing their job, I am doing mine," he added.
The third Test in Ranchi begins on Thursday with the four-match series locked at 1-1.
--ANI