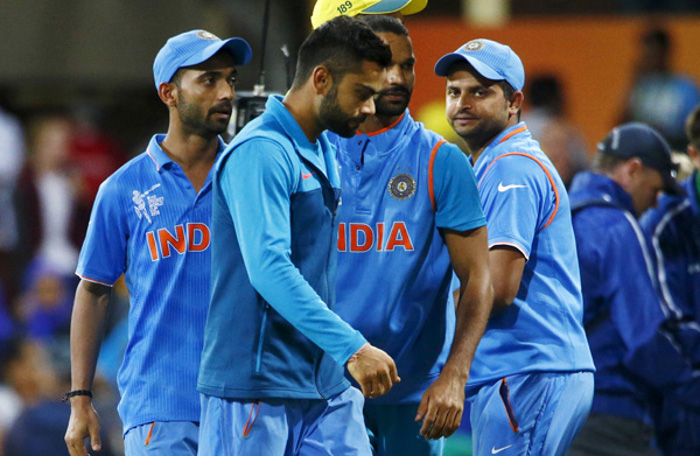 Faced with a do-or-die situation against South Africa in the fourth ODI on 22 October, senior Indian off-spinner Harbhajan Singh said his team's bowlers will have to be smarter than what they have been so far in the series.
Also read: Five reasons why MS Dhoni & Co. have turned into a laughing stock
India are 1-2 down in the five-match rubber and need to win to be in with a chance of upstaging the rampaging Proteas in the fifth and final match scheduled in Mumbai on 25 October.
"Obviously, we are in a tricky situation. We have to win to be in the series. We have got the team which can turn things around. I want to say one thing that the team will be going all out to win the game and from there onwards, we will hopefully put up another good performance. Things can be different in one week's time," Harbhajan told reporters in the pre-match press conference.
"No bowler is (so) perfect that he can keep on bowling at one length and one line. We need to be a little more smart than what we have seen in the last three games," he said.
Harbhajan said the team's batsmen are also quite capable of turning the tide.
"We have got such quality in our team that we can score runs on any track. They are all performers and they have won games for India. It is just a matter of time to get adjusted. It could be on Thursday and winning the series will be a great fun," he said.
The senior tweaker said he, along with the other Indian bowlers, will look to be attacking in their approach even if it means conceding a few runs.
"I have come here with one purpose only to win games for India no matter what situation I am bowling. Looking to take wickets and to contain the batsmen is by getting them out. With our spinners, we are looking to put pressure on them and not to give them easy singles if they are looking to go over the top, that is fine by us," Harbhajan said.
"We want to take wickets as spinning unit. Whoever is bowling at any point of time, we want to attack. In that process you will go for boundaries here and there. At the same time, if you pick up a wicket you can control the game," he added.
Harbhajan praised fellow spinners Amit Mishra and Axar Patel and said the duo adds variety to the attack.
"It is nice to have lot of variety in the team. All the spinners are doing a different role. Amit has been playing for many years and brings a lot of experience on the table. Axar is doing really well. He played the game in Indore and picked up two crucial wickets. It is nice to be bowling along with these guys," he said.
Asked for his reaction at not being picked for the Test series, Harbhajan said he prefers to focus on performance.
"My job is to play whatever opportunity that I get to play. I am very happy that I am part of this side.It is nice to be playing again for India in ODIs. Coming to the Test matches, it is part and parcel that sometimes you get picked. I should not get too worried about selection stuff. I will get opportunity and look to do what I can do from my side," he added.
Harbhajan lavished praise on skipper Mahendra Singh Dhoni, who has drawn criticism owing to India's lacklustre show in the series.
"You go with your plans to the captain and he has lot of options. Dhoni has been a brilliant captain for India. We won a brilliant game in Indore and in Rajkot, we did not play as well. Hopefully things will change and change from Thursday. Everybody is discussing as to what to do and what not to do. What is important is to win games," he said.
-PTI