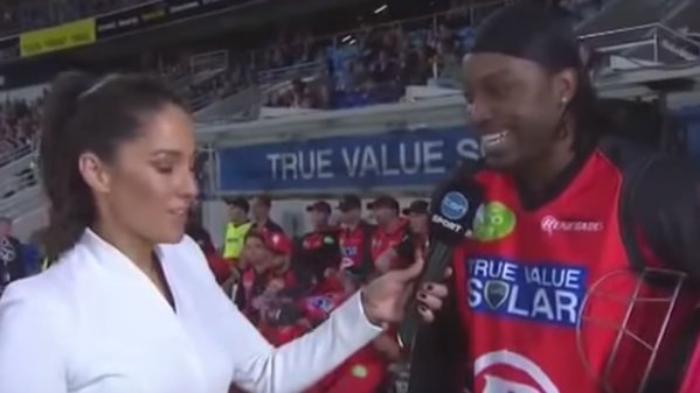 West Indies batsman Chris Gayle has apologized for his recent comments made to a female TV journalist, which the authorities have described as 'disrespectful' and 'inappropriate', saying that he is sorry and didn't mean to hurt her.
The explosive batsman was dismissed after scoring 41 off 15 balls in the Melbourne Renegades' victory over the Hobart Hurricanes in the Big Bash League (BBL), when he was approached for comments by the Network Ten journalist Mel McLaughlin.
When the reporter asked him about his innings, the left-hander steered the conversation away from cricket and said that he batted well because he just wanted to have an interview with her.
Gayle did not stop there and said that her (reporter's) eyes were very beautiful and asked her out for drinks after the game, adding that she should not blush.
'Comments blown out of proportion'
Describing his comments as a 'simple joke', the 36-year-old insisted that his comments were not meant to be offensive to the journalist.
Gayle further said that things were bring blown out of proportion, and therefore, it would be better to move on with time.
"A lot of things have flared up from a simple comment, a joke, a simple joke on air, and it seemed to go out of proportion. There wasn't anything at all meant to be disrespectful or offensive to Mel, and if she felt that way I'm really sorry for that," he said.
Earlier, Big Bash League boss Anthony Everard had condemned Gayle's comment, saying that there was no place in the tournament for such sort of behaviour.
Offering his support to McLaughlin, Cricket Australia chief James Sutherland said that the comments were completely out of line and they were 'inappropriate for the workplace'.
Former England skipper Andrew Flintoff also expressed his views on the same and wrote on Twitter, "Big fan of @henrygayle but he made himself look like a bit of a chop there."
Gayle was fined USD 7,000 by his team Melbourne Renegades following the incident.
-ANI